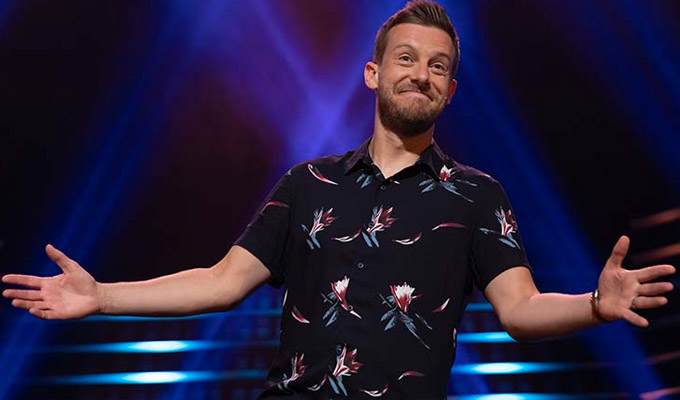 Chris Ramsey: Approval Needed
'This is the heist of the century for me,' Chris Ramsey trills excitedly as he establishes one of his anecdotes. And what is this real-life Ocean's 11? Conspiring to order a drink he didn't want on a first-class rail journey so he could give it to a fellow passenger who wanted two.
That sums up the comedian's approach, ramping up everyday anecdotes into epics. There's of course more to that train story, but what most of us would quickly dismiss as a minor moment of interest is inflated to a full-blown drama. Whether that's brilliant comic talent or desperate hyperbole depends on how much you buy into each tale, and it's possible to feel both over the hour.
Ramsey, of course, puts his all into it. He's weaponised likability and beams with positivity through his very loud, very physical performance. He should do all right on Strictly Come Dancing given how well-choreographed his act-outs are here. Perhaps that's the influence of his wife Rosie, a former professional dancer and now his podcast co-host.
Speaking of his marital life, Approval Needed – a good double-edged title, that – starts in an almost old-school way, as he complains about his spouse nagging him.
It's a lead-in to a 20-minute routine in which the pair debate whether to get a caravan, further underlining his Everyman status. He's keen to stress that at every turn, pointing out his first-class ticket was paid for by a TV company and that although his favourite underpants are by David Beckham, he's happy with Tesco own brand. He even insists he was so ignorant of champagne that he didn't know it came from a French region of the same name.
The caravan routine is a mix of amusing memories, relatable if sometimes predictable observations about how awful they are (and on a tangent he also coins a great new phrase for a suitcase) and rather too precise a reconstruction of their argument. But it does conclude with a great visual image of a trip gone awry and a strong punchline that undercuts all that has gone before.
The supermarket routine that gives the title one of its meanings is probably overwrought, and the seagull attack story, too. But however lightweight the stories, Ramsey's dynamic delivery has the hometown crowd at the Tyne Theatre in Newcastle thoroughly entertained.
Chris Ramsey: Approval Needed is available to Amazon Prime subscribers here.
Review date: 29 Aug 2019
Reviewed by: Steve Bennett
Recent Reviews
What do you think?