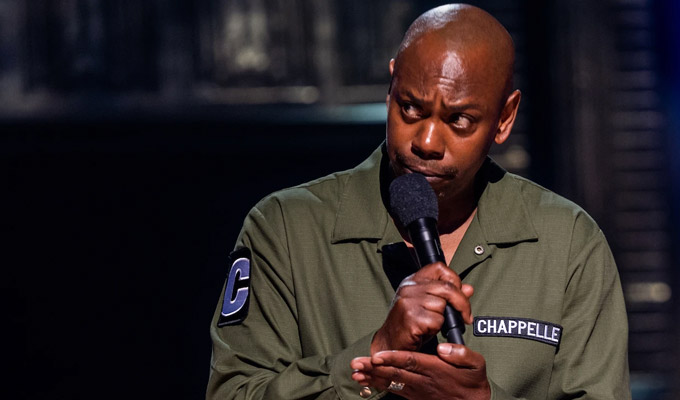 Dave Chappelle: Sticks And Stones
In his new Netflix special, Dave Chappelle comes out swinging against 'celebrity hunting season', when righteous Twitter mobs descend on every misstep to demand retribution.
Will he be in the firing line? He cites the great philosopher Prince to imply he doesn't care. 'I don't think I did anything wrong, but we'll see,' he says.
However, he then goes on to give critics every bit of ammunition they need, with provocative cries of support for Michael Jackson and Louis CK and quips about the trans community, a frequent target for him. If anyone watching at home takes offence at what they see, this known contrarian has this message: 'Remember, bitch, you clicked on my face.'
His point, somewhere in this, is that moral sensibilities are now so sensitive, minor transgressions are treated with the same outrage as major crimes. Seemingly to fight back against that, he'll assume Jackson's innocence with the same certainty that he'll defend his pal Kevin Hart over losing his dream Oscars gig for a homophobic old tweet. He describes Hart as 'damn near perfect', though the ex-wife he cheated on while she was pregnant might have something to say about that.
Of the Leaving Neverland documentary, Chappelle comes right out and says: 'I don't believe these motherfuckers… I'm a victim-blamer.'
His ensuing routine, however, suggests it did happen, but downplays it. Adopting a stance that's not so uncommon in comedy, he jokes that many a kid would be delighted to be molested by the King Of Pop. Chappelle's high status and the fact he's got such a prominent platform gives this more frisson than it would get in a club. But while he evokes a droll image, it's uncomfortable if you consider the reality.
He dances with that tension further by bringing up R Kelly, but only to put the record straight that he didn't know the guy. Louis CK, though, is a friend, and Chappelle downplays his actions – suggesting they were so minor that anyone who called the police to report them would be laughed out of town.
While most of this seems provocative for its own sense, emphasising his edginess, Chappelle does suggest more seriously that stricter anti-abortion laws – such as those enacted in Georgia, where this special was filmed – is a backlash to the #MeToo movement. The argument is that men telling women what they can do with their bodies is a consequence of women telling men how to behave.
Again, he's skipping backwards and forwards over the line, each ambiguous statement on this hottest of topics eliciting hollers from the room. He wouldn't have it any other way – and delights in winding the audience up.
Most of this special is performed on a jetty coming out of the main stage, so he can be among his fans. But after some of the lines he scurries back across the uses the whole space, as if he was a kid dropping stink bomb, half wanting to hide, half wanting to witness the consequences of what he has done.
That sort of spirit is strong in the routine in which he plays with the idea of upsetting the 'alphabet people', as he dubs the LGBT-etc set. His analogy of how this is not a coherent community at all is a point well-made, more nuanced than some of his more direct shit-stirring.
Addressing the T part of the acronym, he reframes the oft-made points about trans women competing in women's sports before admitting he finds the concept of someone being born in the wrong body inherently amusing, imagining if he was a Chinese man in his body. Exaggerating the issue to such an extent is farcical, but surely inviting a backlash after showing some understanding in the previous routine.
At a crucial point, a phone rings in the audience – and you have to ask how given Chappelle's notoriously strict no-mobiles policy. Yet surprisingly he doesn't lay into the poor sap, perhaps grateful that the interruption diffuses some of the tension. Which he duly ratchets up again.
Chappelle also addresses another couple of major social issues in the US: the opioid crisis and gun ownership, arguing that one fuels the other. Expressing dismay that children are taught what to do in the event of a gunman in school, he comes up with an inventive way to force the government to tighten the law which shows him at his best, socially astute and very funny.
It's here he's at his best, exposing truths many would like to keep under the radar. Whereas in the celebrity-led material, he's too often defending those who would like to keep their crimes and misdeeds hidden.
Of course, much of this transgressive stuff is presented in a witty way, since he's one of the most skilled comedians of his generation. But often then contentiousness overshadows the funny.
Review date: 27 Aug 2019
Reviewed by: Steve Bennett
Recent Reviews
What do you think?