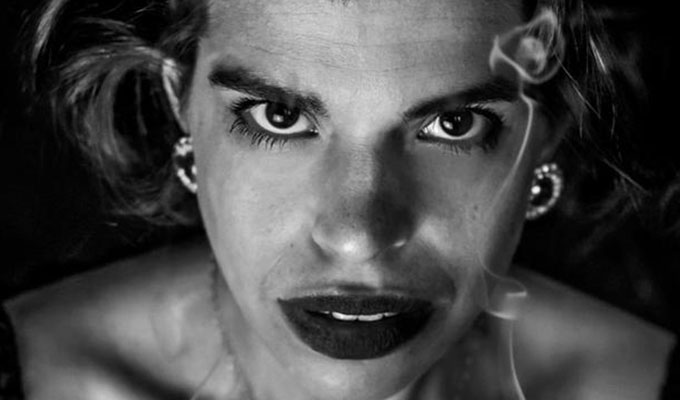 Candy Gigi Presents – Friday Night Sinner
A small Edinburgh basement is nowhere near enough to contain Candy Gigi. She has a powerful, intense voice and uses it like she's playing Madison Square Garden without any amplification. She probably could, too.
Just as intense is her performance, a manic force of personality that steamrollers an audience into laughing at her outrageous, sick antics.
She's a comedian in The Joker sense, thriving on chaos and playing with insanity. The hour is pure-spirit of the Fringe stuff – dark, provocative and wild. It's bookended by talking vagina, she invades the personal space of audience members, and there's aggressive, graphic sexuality. And do not sit in the front if you've an aversion to being splattered with foodstuffs or worse – the umbrella she provides is far-from sufficient protection from the mouldy challah or half-eaten onion spewing forth.
If this sounds like hell, you'll probably be unimpressed by the way she powers through it with the single-minded determination of a psychopath. But remaining neutral is not an option in the face of such a tsunami of craziness: you either buy in to her exaggerated clowning, or spend an hour feeling uncomfortable.
Yet this is her at her most focussed. Presented as a musical, Friday Night Sinner! has a narrative about a Jewish woman torn between the dutiful life her (obviously) overbearing mother wants for her, or throwing compliance and modesty out the window and ruthlessly following her dreams of becoming a huge star.
The option of settling down into a loveless, sexless, repressed but respectable life of a suburban Borehamwood housewife appears very unappealing compared to sating her ambitious, narcissistic tendencies on the showbiz stage. Nothing will stop her, not even the pregnancy that mum is so keen on to continue the Jewish bloodline.
Amid all the noise, and Candy Gigi's incredible voice, it's easy to overlook the quality of the bad-taste songs themselves. Lyrics like 'finish what Hitler started' would do Mel Brooks proud. There are some great, savvy jokes, too, even if many get overwhelmed by the performance.
Candy Gigi's off-the-scale insanity is contrasted with the most deadpan performance on the Fringe from her pianist, soaking up all her disdain as he represents her boring husband.
Ultimately, Friday Night Sinner! is a question of personal preference, more than most shows on the Fringe. But if you're up for filthy, sick slapstick, she delivers it with a crazed passion like no other.
Review date: 26 Aug 2019
Reviewed by: Steve Bennett
Reviewed at: Monkey Barrel Comedy Club
Recent Reviews
What do you think?