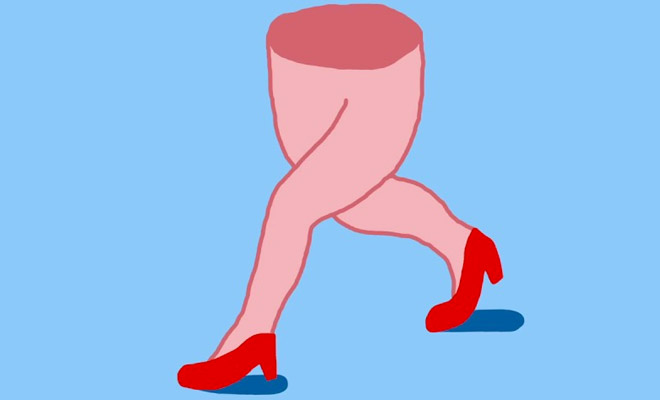 Legs
A full hour devoted only to legs? You'd better believe it. Julia Masli and brothers Robert and Andrew Duncan have really gone out on a limb here, pushing the absurdity to the limit in this charming, but ultimately self-indulgent show. Rooted in modern clowning, it feels a little too pleased with itself, although you can't but admire their ridiculous commitment to the cause.
Russian-born Masli has that style so beloved of the Gaulier school, with a hesitant, deliberately awkward presentation, trying to maintain a deadpan facade but with a glint of childlike glee in her eyes when she pulls off a scene. Making faces out of each of her Legs then having them 'kiss' is one of the more delightful skits, and the show is more mischievous whenever she's in stage
Proceedings kick off when she births the Duncan Brothers from between the first of many sets of fake Legs used in the hour. One sibling is in a dazzling scarlet suit, the other in an unwieldy cardboard prop, a time-travelling sailing ship to take us back to landmark moments in the history of Legs such as the first-ever wax, or the limbs' darkest day: the invention of the Segway that could render them redundant. This era-leaping strand dominates the show but feels overdone, going on too long, if that's not a perverse a criticism of a show whose very premise is extracting so much from so little.
Sometimes they really grind it out. There's a very long relaxation scene in which a man has a foot massage with soporific music that might genuinely cause your eyelids to droop. Or a sketch that's literally like watching grass grow. Elsewhere, though, they are more boisterous, winning audience buy-in by getting us all to shout: 'Legs' in unison.
The trio won this year's Malcolm Hardee Award For Comic Originality and you can see why, as it's just the sort of act that would appeal to the late comic who'd always introduce newcomers with the cry 'could be good, could be shit'. The same applies to each successive burst of surrealism here as their singular, dumb concept is battered into all sorts of peculiar shapes, to mixed effect. You've got to admire their chutzpah, though…
Review date: 26 Aug 2019
Reviewed by: Steve Bennett
Reviewed at: Just The Tonic at The Caves
Recent Reviews
What do you think?