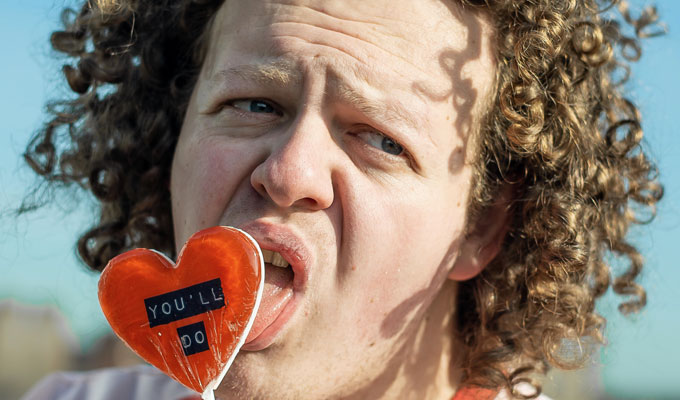 Jack Rooke: Love Letters
For most of his career, Jack Rooke has been the go-to-guy for grief and male suicide, having brought a light touch to both sombre topics in his last critically acclaimed live shows.
But it's not exactly a fun place to be dwelling. So for the sake of his mental health, Rooke has moved from the theatre section of the Fringe and into comedy's ranks with an unashamedly light show about his dating experiences. Plus he's joined by Alex Thomas on the harp for a little company, while the delicate strumming provides a touch of class to the naughty anecdotes.
Love Letters is framed through his relationship with his two brothers, the basic heteros Bill (shops at Next, ugh) and Shaun, a lads' lad who has been known to let slip the odd homophobic slur. This is the story of their rapprochement after drifting apart, and adds a backbone to his stories.
Rooke takes us from the horrors of student parties, to excursions into the gay clubs of London's West End – a generally aggressive scene that does not suit the mild-mannered, cherub-faced comedian.
Sexual encounters at festivals follow with a story that will make you wince – and then the horrors of dating apps, documented by so many comedians. Rooke's best/worst story involves hooking up man who had a portrait of Margaret Thatcher in his flat – and that was far from the weirdest aspects of the night. Again the notion that dick pics and casual hook-ups are not for him looms large.
He's delightful company, talking about his hang-ups lightly and honestly, while subtly acknowledging deeper topics such as body issues. What was sold as an hour of knob jokes is gradually revealed to be so much more, with friendship trumping sex in what he really wants. That turns out to be much harder to find, even for such a charmer on stage.
Review date: 25 Aug 2019
Reviewed by: Steve Bennett
Reviewed at: Assembly George Square
Recent Reviews
What do you think?