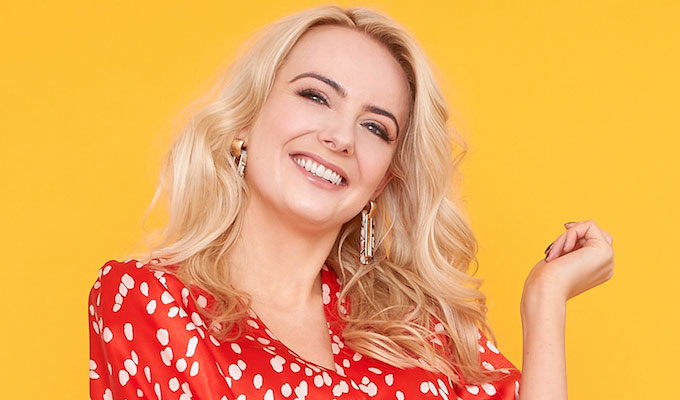 Steff Todd: Reality Check

A growing complaint from impressionists is that with audiences split across multiple television channels and online platforms, the pool of celebrities with enough cultural standing to be widely recognised is shrinking.
And so we're seeing the rise of the niche mimic. Steff Todd is more-or-less exclusively preoccupied with reality show fodder like Love Island, Keeping Up With The Kardashians, Made In Chelsea and Geordie Shore. I'd be lying if I said I've ever watched a minute of these programmes. But the constant whoops of recognition that their mention attracts is enough to convince of their cultural capital.
Certainly, Todd knows her audience. A wide-eyed young Yorkshirewoman traversing London's intimidating dating scene, she asserts that her interests are mainly consuming copious amounts of cheap wine, waking up late and watching trashy television. Rarely has the cry of 'is anyone drinking this afternoon?' been so enthusiastically responded to.
In her coltish unsteadiness, Todd portrays herself as finding her feet comedically too, crowning her clunkier gags with the admission 'two jokes down, one to go!' Hoary and endearing all at once, especially as she self-deprecatingly repeats it.
But her best impression is that of an act venturing, or being pushed, beyond their comfort zone too quickly. Reality Check is Todd's full-length Fringe debut and she might benefit from a few more years on the circuit to take the genuine nervousness off her ingénue vibe. Though, of course, Love Island's time is now. And she's pulled strings with the management company she shares with Iain Stirling to get him to record a brief bit of voice-over interaction.
I probably don't need to stress how I'm not this show's target demographic. That's essentially Ellie and Izzi Warner on Gogglebox, those likeably incredulous Leeds sisters who just want to chill out in front of the telly and natter about those on it, with the pair affectionately reproduced by Todd here.
Still, I'm not so out of touch that I can't find her vocal parodies of talent show judges like Sharon Osbourne, Cheryl Tweedy and Paloma Faith unremarkable, neither accurate enough, nor having much amusing to say. Ironically for someone who claims no interest in politics, her 'Tressa May' as a defiant, tipsy girl at the close of a party, and her Twitter slam of Rupert Murdoch, are some of her funniest moments. Yet the willful ignorance grates. If you know enough to know that you don't know who Diane Abbott is, just look her up.
The most basic test of an impression is whether it's instantly recognisable. Yet in virtually every instance Todd has to introduce her inspirations by name before sending them up, nullifying the surprise element and presenting a damning indictment of throwaway celebrity gossip. Or possibly a satire on it. Sometimes she needs to note what vintage of series her D-list stars come from and if they've fallen out of the public eye.
Though the suspicion is that she's manoeuvring for spots on those spin-off reality TV comment shows, one doesn't want to be too cynical as Todd has gamine charm and appears to be just starting out on her career. But unless you really, really care about the likes of Gemma Collins and Charlotte Crosby, there's little to detain you here.
Review date: 25 Aug 2019
Reviewed by: Jay Richardson
Recent Reviews
What do you think?