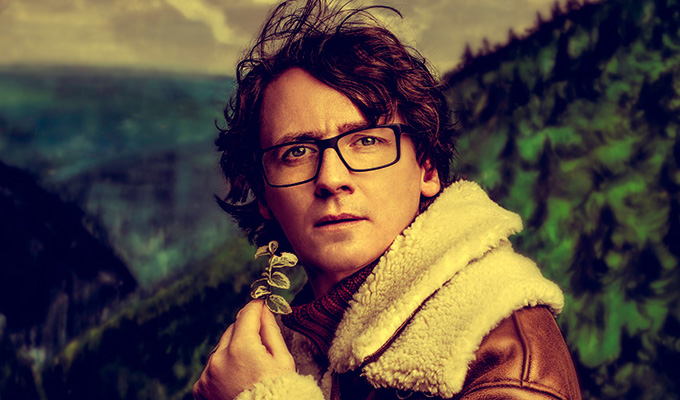 Ed Byrne: If I'm Honest

Like many comics currently, Ed Byrne is addressing his mental health. But rather than setting himself apart from other people, the Irishman is seeking to make the voices in his head relatable.
And he's not suffering particularly, beyond the gripes of many a father-of-two in his late forties.
He opens on a neat variation on the 'it's just nice to get out of the house' quip. And when he evokes l'esprit d'escalier, that pithy wisdom arrived at too late, it's as ripostes to his young sons.
They're his secondary tormentors though, extensions of his abiding irritations, passed down through the family bloodline. Because Byrne is chiefly just annoyed at himself.
Indeed, he's empowered rather than debilitated by his minor ailments and flashes of painful self-awareness, all grist to his mill. Rather than self-harming, he's affluent enough to enjoy the middle-class bittersweetness of cutting himself on expensive knives he has time to proudly and patiently sharpen — the artisanal angst of decadent society.
He introduces one note of real jeopardy, the spectre of intrusive thoughts, whereby you envision yourself jumping off a cliff or in front of a train. For him though, this self-destructive impulse manifests itself as a threat of introducing Brexit material to crash the gig; tweet something appalling on his phone to destroy his career; or the hilarious image he conjures of his younger self as an altar boy, desperately resisting an urge to succumb to the rough embrace of a priest.
No, there's very little at stake here, beyond the future happiness of his sons. Struggling to raise them gender-neutral and with the luxuries he couldn't have as a child, he's nevertheless disturbed to hear them parroting his mother via his condescending self.
Yet he delights in his youngest's display of his storytelling gene. And it's fleeting triumphs like this that get him over any bumps in the road. He gorges on stories of useless fellow dads and sabotages the competent ones who cast him in unflattering relief.
By dint of setting a good example, he denounces misogynist keyboard warriors declaring their childhoods ruined because of a female Dr Who or Ghostbuster. A reflection of his woke credentials, sure, it's also a typically pernickety Byrne routine as he painstakingly deconstructs the most ludicrous aspects of Superman.
Sharing the distracted bugbears of a man happy enough with life to turn his annoyance onto himself, when he tucks his head between his Legs and bounces up and down in self-berating, Basil Fawlty-style, it's pure affectation, the stagecraft livening up relatively trivial concerns.
That's not to say Byrne's incapable of piercing and brutal insight, as he wittily summarises the hidden motivations of buying gifts for elderly parents, even as he rather underplays the impact of Liam Neeson's controversial race comments.
And as he finishes restlessly pacing - an impressively agitated, animated set for a man of 47 years - signing off with the sarcastic exchanges that keep his marriage ticking over, he can reflect on a good, honest night's work.
Review date: 25 Aug 2019
Reviewed by: Jay Richardson
Reviewed at: Assembly Rooms
Recent Reviews
What do you think?