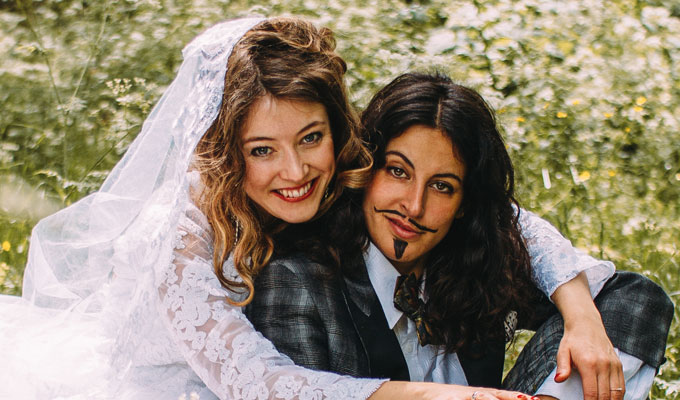 Róisín and Chiara: Get Nupty
Rosin O'Mahony and Ciara Goldsmith have the sort of phenomenal anarchic energy that calls to mind Rik Mayall and Ade Edmonson in their alternative comedy prime, without ever being clones.
They dance around the entire space, and are fearless in their willingness to plunge into the audience – Ciara especially – tousling hair, spreading themselves over laps or delivering lines with powerful intensity direct into your eyes.
With more chemistry than a meth lab, they are imposing, mesmerising, dynamic but sloppy performers, occasionally babbling over each other or getting distracted by some bit of side business. But they tread the line between unpredictability and ill-discipline deftly, keenly aware of when they need to get back on track.
If some of the high-jinks and oddness is more for their sake than the audience's, it seems a fair price to pay for the more outlandish moments that land to great effect. Once they get this consistency stronger – and sustain for the full hour, not just the 45 minutes this clocked in at – they will be unstoppable.
In this sophomore show, the pair mull the question that has vexed philosophers and Haddaway alike: what is love? Some structure emerges from their mucking about, knowingly playing on the age-old comparison of a double act being like a marriage.
They go from the flush of pulse-quickening excitement of a first meeting to the mundanity of settled middle-class cohabitation in a whirl. And they work out how to make their contrasting personalities work together: romantic Roisin versus pragmatic Ciara. However, we'll have to take their word on their individual traits, as for most of the show they are as impulsively insane as each other.
Outrageous and deranged, they exude the energy of a duo who will do anything dumb if they think it'll get a laugh – and nine times out of ten they are dead right; whether donning a fake animal head or an elaborate princess's costume with towering headdress.
Loose, joyful and stupidly funny, Rosin and Ciara feel like they are on the threshold of something brilliant – and you'll want to be there when they are carried over it.
Review date: 24 Aug 2019
Reviewed by: Steve Bennett
Reviewed at: The Hive
Recent Reviews
What do you think?