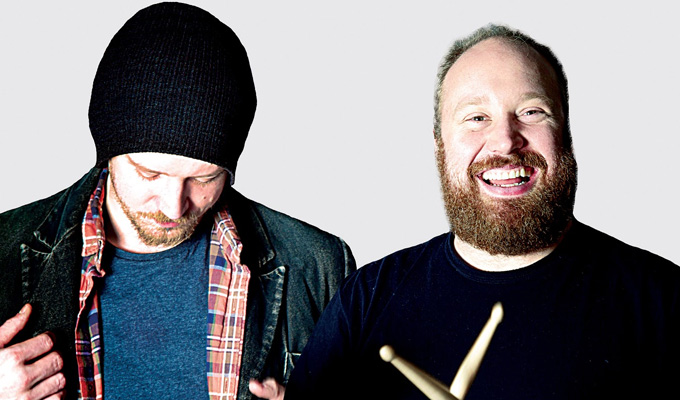 Jonny & the Baptists Love Edinburgh And Hate Bastards
'This is not a political show,' Jonny Donahoe repeatedly tells the audience – normally just before or just after a political song.
Love Edinburgh And Hate Bastards is a change of direction for the musical duo, but not a complete change of direction. They are still waiting in the wings to provide the soundtrack to the people's revolution, should that glorious day come, but have also turned their attention to the topic of love in its various guises. And, of course, love has no place in today's angry politics.
Their focus is so much on a mushy romantic love, which is pretty extensively covered in all music ever. Instead, the fraternal love between Donahoe and guitarist Paddy Gervers is the most prominent strand. Men are not traditionally good at telling their best mates the affection they feel for them, so the emotional openness here is touching.
As with romantic love, their affection also not evidenced in the big gestures but in everyday dependency. Their verbatim song created from a conversation they had trying to get to sleep in a Travelodge room they shared on tour is a wry but revealing portrait of a day-to-day relationship and the things that can be left unsaid.
Then there is family love up and down the generations. That Donahoe and his partner Josie Long became parents 14 months ago brings that into focus, and there's a tender song to their daughter, Making Up The Numbers, which is lovely on its own, then resonates down the hour.
That love is oxymoronically both enduring and fragile is evoked when the two performers recall their relations with their parents. Donahoe hasn't seen his father since he was 13, while Gervers mum died when he was seven – and the sense of loss from both is palpable. Their songs are as brittle and delicate as the subject they are reflecting upon, and quietly rather wonderful.
They are not, however, funny. But that's of no concern, even for a comedy show, as there are plenty of laughs elsewhere. Certainly, there are plenty of hilarious musical one-liners, using familiar tracks or lyrical structure to drop an impactful punchline as quick as you like.
And for all the protestations, politics is given equal billing to the ballads. Their uncompromising ideology – 'you are either against capitalism or for the end of the world' – is tempered by their cheerily affable stage presence and their jaunty tubthumping tunes. Never has anyone told you that your actions and your apathy are morally abhorrent while maintaining such a beaming smile.
Donahoe and Gervers suggest how to fleece the super-rich with a series of increasingly improbable schemes, torch Winston Churchill's saintly image with facts and take quite some pride in their power of political foresight more astute than some journalists they could mention. And of course, do, in a wonderfully smug exhibition of I-told-you-so-ism about how Brexit has panned out.
That the downside of them being correct is a county in an ethical, economic and egalitarian mire. Does singing about how screwed things are – presumably to a broadly like-minded audience – make a difference? Probably not. 'We're fiddling while Rome burns,' Donahoe admits. 'But at least we acknowledge that the fire is a concern.'
Their love songs will take you away from that, offering a flicker of optimism against the state of the world portrayed in their protest songs. That makes Love Edinburgh And Hate Bastards (which is to go on tour with the crucial word changed in each town) an emotional roller-coaster, but one you'll want to ride.
Review date: 24 Aug 2019
Reviewed by: Steve Bennett
Reviewed at: Assembly Roxy
Recent Reviews
What do you think?