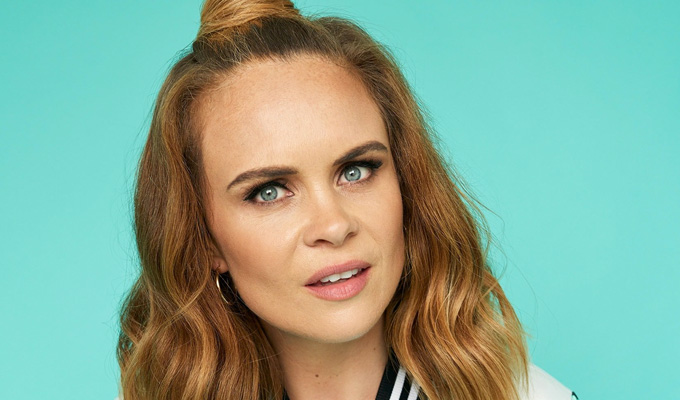 Joanne McNally: The Prosecco Express
Personable, but with the mildly intimidating aura of a woman on the edge firing questions at the crowd about their relationships and life choices, Joanne McNally is exasperatedly riding the Prosecco Express.
Running on a parallel track to the lives of her settled friends, the Irish comic's life is a never-ending circuit of weddings and holy communions blurring in a sparkling-white-wine-induced haze. At 36, single and childless, she's also just boomeranged back to living with her mother.
Fortunately, she's joined in her alcoholic coping strategy by two drinking buddies with considerably more baggage. There's Denise, about to have her third child, worried about invisibility when she hits 40, going hog wild whenever she's secured a babysitter for the night. And Carol, feminist, activist, confused bisexual and adopted mother of a Chinese toddler.
McNally gets good value from identifying her friend's contradictions, hypocrisies and insecurities, alighting upon a neat visual critique of their Botox treatment and environmental grandstanding, while wryly appreciating the many flaws in her own character.
Effectively citing society's varying expectations of men and women as they age and the different levels of communication and emotional support between the sexes, McNally is less preoccupied with the feminist cause, and Carol's illogical commitment to it, than she is the dreadful spectre of dying alone. With her mother seeking to be taken clubbing for her 70th birthday, McNally's not projecting the cool, sophisticated vibes she might have hoped for.
She admits to having been in a toxic relationship that she couldn't finish, bestowing ever-greater sexual gratification on her toe-rag former partner just so that he'd hang on a little longer. Although he elicits little sympathy, you can certainly appreciate why he finally dumped her after one spectacular, hot mess episode. Football and pint-loving blokes in the audience are then sought out and interrogated, guilty by association.
With her stand-up and a respectable television career in her native Ireland, McNally has cause to consider herself successful. But she's mindful of her businesswoman aunt, a high-flier who was compromised in the family's eyes for never having married or procreated.
It was this poor woman who encouraged the adopted McNally to try to find her biological parents, and perhaps some answers as to what's lacking in her. Yet this, and the comic's relationship with her also adopted brother, is barely introduced before it's frustratingly passed over. It's part of McNally's resistance to ever exploring her psyche too deeply, with the implication that either it yielded few answers, or it's the focus of another show.
The lack of reassuring conclusions McNally arrives at are understandable, perhaps, given her present circumstances and widespread angst among ageing millennials everywhere, with her mother's well-meaning counsel only ratcheting up her anxieties.
Still, she's an assured if intense performer, her pacy, conversational style affording the hour an attractive rhythm, which she can nevertheless break out of with smooth transition if she feels the need to inject a bit of extra pep with some probing crowd work.
Review date: 24 Aug 2019
Reviewed by: Jay Richardson
Reviewed at: Assembly George Square
Recent Reviews
What do you think?