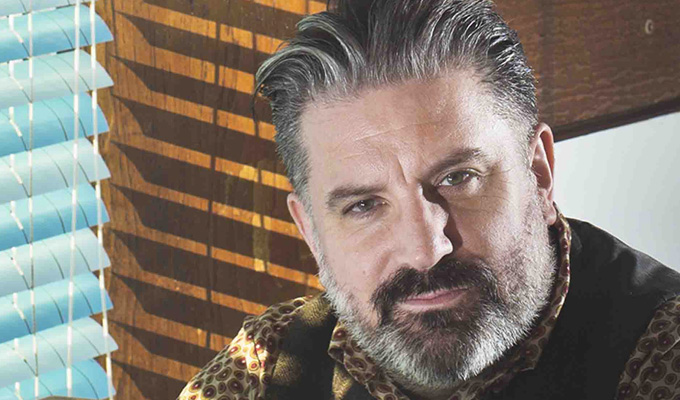 Rich Wilson: Death Becomes Him
As society hopefully tilts on its axis to a better place, a lot of comedians at this year's Fringe shame men's awful behaviour. Almost all come from the women's perspective, of course, as men, at least in the liberal arts world, understand when it's a good time to keep their gobs shut.
But it's important to hear from the side that needs to do the changing too… especially the sort of down-to-earth working-class geezer who might get the message across better than some fresh-faced fey snowflake.
Step forward Rich Wilson, a fast-approaching-50 Kent bloke who looks and sound like he could be a football-loving white man van who thinks Tommy Robinson has got some good ideas.
But he's far from that image, which is perhaps why he's so keen to judge people on their actions alone, not their identity. He's got a positive take on accepting difference, and an insight into toxic masculinity and how shedding of some that conditioning is not emasculating. You can still be a 'real man' and not be a dick.
Such issues come to mind because Wilson is taking stock of his life, based around a bit of theatrically that this show occurs purgatory. He knows he's not led the perfect life, but has been a good enough man, father, husband and even receptionist at a gay sauna to get into the good place?
So we go back to his upbringing in an era where parents never cared about health and safety – or even paedophiles – and positively encouraged bathing in potential toxins. Broadly speaking it's a common trope, but like so much of the show succeeds because of Wilson's welcoming, cheery and unfussed delivery.
He considers his relationship with his ex-wife, and with his kids, who of course think he's terribly uncool. His response that he was a raver back in his day doesn't quite go the way you think. But 'do drugs' is one message he has for the room.
With 15 years in the clubs under his belt, Wilson makes it all look effortless. Indeed the stand-up is so free-flowing the purgatory premise is mostly forgotten by audience and comedian alike until near the end when he returns to it as if to say:'Shit! Edinburgh! Needs to be more than just conversational routines.'
Indeed, that's probably what this show is missing, that more determined sense of purpose beyond mere good intentions for life. But for engaging, chatty, unadorned stand-up, Wilson knows how to deliver.
Review date: 23 Aug 2019
Reviewed by: Steve Bennett
Recent Reviews
What do you think?