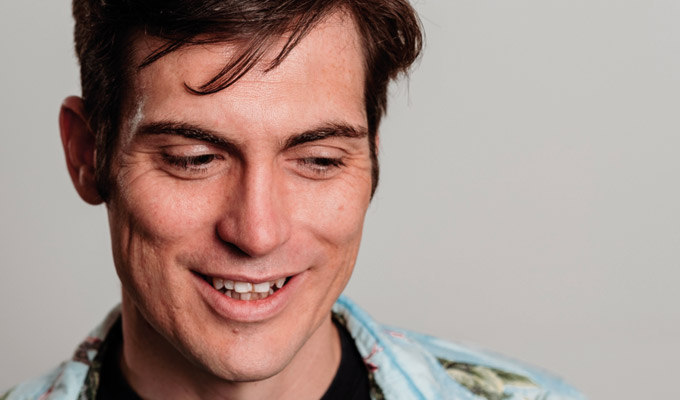 Rob Kemp: Moonraker 2: Moonrakerer
After losing his way with a previous attempt to follow up the cult, copyright-infringing hit The Elvis Dead, Rob Kemp has regained his mojo with this giddily silly one-man sketch show. Which, incidentally, has absolutely nothing to do with James Bond. If you were expecting another parody, look elsewhere.
Instead Moonraker 2: Moonrakerer is a scattershot collection of recurring, dumb ideas, presented by a man clearly having a ball at his own idiocy.
The treatment is unabashedly low-brow, with the tone (and sometimes content) of a cheesy gameshow. Yet the topics are often highbrow: from Belgian surrealist René Magritte to the 12 Labours Of Hercules to, erm, Graeme Souness. But always in that Monty Python way, in which you don't need to know the details to enjoy the loftiness of the references.
He keeps looping back to the same ideas – which also incorporate Jaws, musical mash-ups, 1980s bands answering trivia questions, and the Icelandic Penis Museum - to give a satisfying sense of commitment to the ideas. He pokes fun at his own persistence and uses his force of playful personality to get the audience on board with his running jokes, even if some of them definitely have diminishing returns.
There's also an inbuilt chaos to the hour that Kemp fully exploits, with several sections built on hugely affable audience participation. His cheery badinage is absolutely nothing to be scared of, and when he misheard a name as 'Martin Shopkeeper' in this show, it prompted a priceless ad-libbed exchange.
For Kemp is a man who's full of beans, despite the repeated references to a recent, raw breakup that tore his soul in two. This is clearly his release from all that; a place to play, where he can crack up at his own ridiculousness for an hour.
While he's not afraid of dad jokes and a song full of penis euphemisms, Kemp also brings some tongue-in-cheek pretentiousness to proceedings, telling us, for example, that the whole hour is set in the hypnopompic time between sleep and wakefulness that comes after he has pressed the snooze button. It's an entirely bogus construct, and well he knows it. But it explains his stage get-up: what looks like mental institution-issue blue pyjamas and an Arthur Dent dressing gown
In this same amusingly self-reflective preamble, he asks: 'Can a themed show without a narrative ever be truly satisfying?' And while maybe it's not going to change your life, the cheerily upbeat Moonraker 2: Moonrakerer is undoubtedly a damn funny way to spend an hour.
Review date: 23 Aug 2019
Reviewed by: Steve Bennett
Reviewed at: Monkey Barrel Comedy Club
Recent Reviews
What do you think?