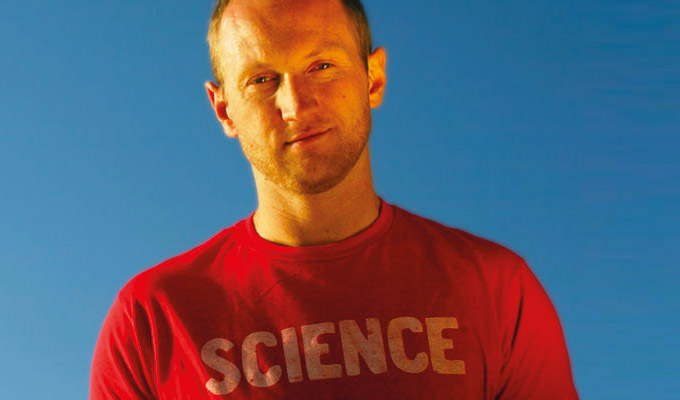 Baba Brinkman's Rap Guide To Culture
Baba Brinkman's Rap Guide To Culture is one of the most fascinating shows on the Fringe, even if it doesn't boast enough laughs to warrant recommendation for those seeking a comedy show.
As well as his considerable rap skills, Brinkman is a stupendous science communicator, explaining the principles of a sprawling subject in an easily accessible way. Culture here does not just mean arts and entertainments, but any set of shared attitudes and beliefs that can influence behaviour.
Brinkman wants to investigate how such traits spread – inspired by thinking how he, a white dude who grew up on a hippy commune in Canada, became immersed in a hip-hop culture long before it was accepted that not all rappers had to be black.
This allows him to offer a short biographical introduction, revealing how he performed a rap version of Chaucer for his degree presentation. Such a notion might evoke bad memories out-of-touch teachers trying to make classics relevant to bored pupils by insisting they were the 'hip-hop of their day'. But that's to ignore the fact that Brinkman is an A-grade rapper and his presentation put the 'lit' in English literature.
He demonstrates his skills on the mic every few minutes, keeping the hour upbeat. Such interludes include a showcase of his freestyle skills based on audience suggestions, even slicker, more intricate and more precise than Fringe favourite Abandoman.
The spread of hip-hop across the globe serves as a good example of all manner of cultures: raising questions of social cachet, of alpha males, and who feels like they belong to the 'tribe' and more. A music video is given the sort of analysis David Attenborough might bring to chimpanzees to underline the point. This gives the show a new direction, applying Darwinism to social behaviours not just physical characteristics.
There's a section on whether culture can nudge society to be better, which is the only part where Brinkman is not crystal-clear, showing a diagram contrasting co-operative and selfish behaviours that he didn't explain.
But he comes into his own with a scientific analysis of Tinder behaviour that's become something of a comedy trope: that men will swipe right on almost anyone, while women are far pickier. How many hack observational comedians can cite their peer-reviewed sources? Brinkman can. And also demonstrate what a seismic change such apps are having on Western societal structure.
There's a lot of food for thought here. And given that mainstream hip-hop is not a genre usually known for its ambitious ideas – Dr Dre does not have a real PhD – its juxtaposition with the academic is inherently funny. Brinkman plays around with their relative statuses, undercutting the serious with the flippant and vice-versa. Fellow rapper Aesop The Living Legend said Brinkman was 'doing the rap white people should be doing' – based on his nerdy passions rather than life on the streets.
Entertaining as this enlightening hour undoubtedly is – including the chance for the audience to sing along with hit raps – its billing in the comedy section suggests levels of hilarity Brinkman doesn't aim for, however witty his patter or quirky his examples. In fact, one of the biggest laughs came from a couple of admittedly hilarious YouTube videos. Brinkman gave context that made them funnier, but he's not crafting killer one-liners here.
But for those curious about the world, this is an eye-opener, with the information captivatingly explained. Word.
Review date: 22 Aug 2019
Reviewed by: Steve Bennett
Reviewed at: Gilded Balloon Patter Hoose
Recent Reviews
What do you think?