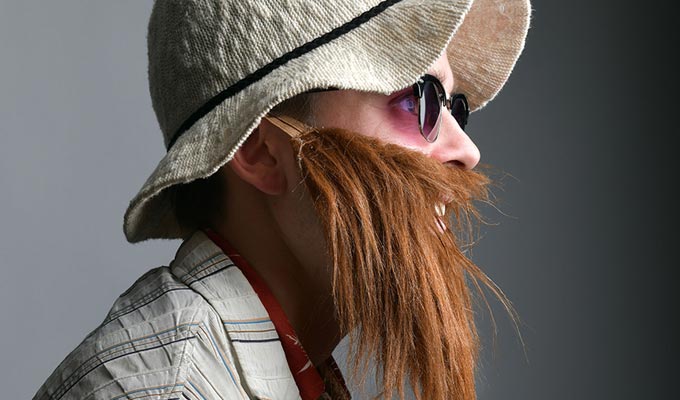 Joz Norris Is Dead. Long Live Mr Fruit Salad
Here's a show that takes a bit of a turn. Joz Norris has been doing absurdist, indulgent, occasionally inspired shows for a little while now, and for about 45 minutes here, that's what we get.
It is Norris in full flow as his alter-ego Mr Fruit Salad, doing fun set pieces that are high on ridiculousness and low on content. Example: getting a log passed through the crowd, and whoever has it when the music stops has to lick it.
It's playful, without any particular depths (no bad thing) or direction of travel. Yes, he has a little material about his grandma dying and the nature of grieving, but he genuinely doesn't let it alter the tone.
Then towards the end, things take a turn for the introspective. He talks about how he struggles to make sense of the world and his own brain; how he draws inspiration from people like Carl Sagan and Kurt Vonnegut; and how he's sought therapy to try and resolve this. Not what you might expect from a character called Mr Fruit Salad. The fact that he is dressed up like breakdown-era Joaquin Phoenix only adds to the sense that Norris is working through some stuff. It has also become almost a Fringe cliche for comics to reveal their mental health struggles, but there's still worth in that, and it doesn't feel like Norris is doing this cynically.
And inexplicably, it works for the show. The closing parts are fun and funny, yet strangely poignant. Just when emotions are at their height, Norris does a visual gag that cuts right through, and it's a totally brilliant moment.
He also recalls a mime he does with Ben Target where he reaches offstage one side, and Target finishes off the mime on the other. The first time they do it is wonderfully silly and reminds of the old silent movie stars. The recall is a lovely touch. And the ritualistic tidying at the end of the show is almost peaceful.
Before the fork in the road, the out-and-out nonsense section is hit and miss. The elongated opening section in which he spends really quite a while standing on a chair telling us he wants to do a slick Carnegie Hall-style show is firmly in the 'unnecessary indulgence' category. But his search for a theme tune (which goes on for most of the hour) is a good running gag, and leads to some fine comic moments such as his frenetic flossing to bluegrass music. I also very much enjoyed his 'guess what burrito ingredients the audience member chooses' section.
There are also signs that, despite his penchant for self-indulgence, Norris is improving as a performer, recognising momentum better and utilising it, rather than perversely undermining it.
I can't see Norris ditching his Kaufman-esque style of fully-committed tomfoolery, but if there were some way of him marrying it to the big-hearted stuff, he could really be on to something. As it stands, this a show that frustrates as much as it delights, and more importantly leaves you rooting for the comic and his wellbeing.
Review date: 21 Aug 2019
Reviewed by: Paul Fleckney
Reviewed at: The Hive
Recent Reviews
What do you think?