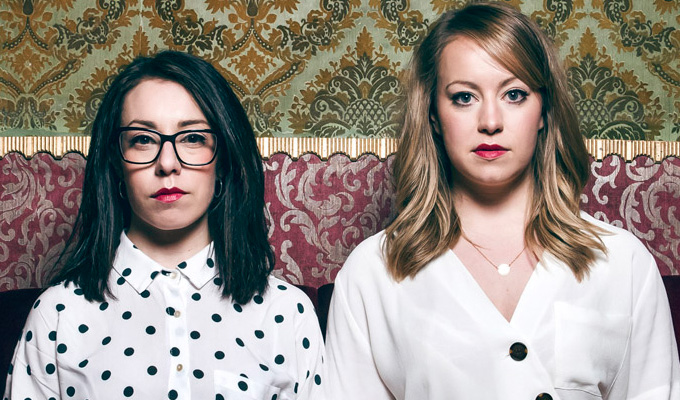 Flo & Joan: Before The Screaming Starts
The Bros documentary After The Screaming Stops was such a gift to comedy that it's beyond parody.
When Flo and Joan watched it, however, they took it as a warning of what can happen when sibling acts fall out. This is the loose theme for this, their fourth show. And now they have more successful shows than Bros had albums, perhaps they can relax a little.
Even so, the Dempsey sisters sing about what other options they have if the comedy act goes down the pan, with some mild sisterly bickering that's not exactly Goss brothers level, but is definitely funnier. It comes to a head with their final song in which they end up playing two different songs due to a misunderstanding, and have a kind of song-off.
One difference this year is that Flo and Joan's act seems (slightly) more expansive, more show-y, as evidenced by the opening number about learning to be confident, which comes complete with drum kit and rock 'n' roll ending. The shtick still doesn't quite feel right to me, though. The songs are consistently good, but the way they perform and the between-song chat (which can waste some of the momentum from the songs) falls between two stools.
I suspect they would go up another level if they either ditched the deadpan thing and come out of their shells, performed it big, or if they committed completely to the deadpan style.
Despite that frustration, this is undoubtedly a terrific comedy show. They target the geniuses who don't vaccinate their children, citing a 'degree in Mumsnet', and extol the joys of the 'Irish goodbye' which basically means slipping out of a party unnoticed.
Like all the better musical comics, they make the music part of the comedy (like Bill Bailey) rather than just relying on the concept or the lyrics. For instance, they switch genres to comic effect in a song that begins as a traditional folk song about Appleberry Fair, and ends a whole lot more grimey.
The frustrations of getting a parcel delivered turns into an epic song to match the magnitude of their quest. Rather less obvious is an innocent, slightly Motown-like ditty about a dreamy 'mystery guy' who turns out to be an absolute wrong 'un.
They may be missing that magic ingredient still, but Flo and Joan's wit and musical flair continues to be a winning combination.
Review date: 21 Aug 2019
Reviewed by: Paul Fleckney
Reviewed at: Assembly George Square
Recent Reviews
What do you think?