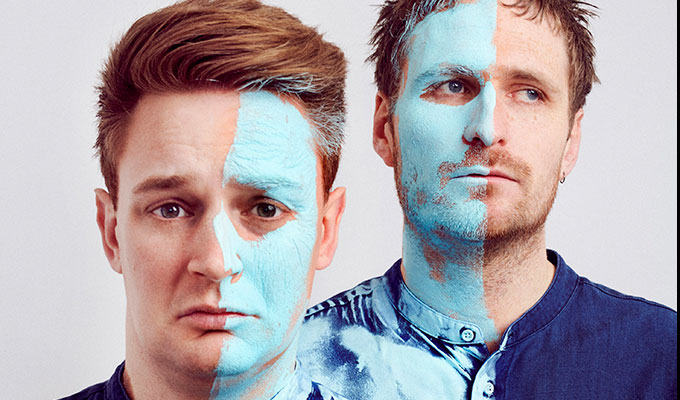 Goodbear: Dougal
One of my favourites this year, Joe Barnes and Henry Perryment have created an outstanding sketch show that slinks along, morphing from one thing to another so seamlessly that it even seems to start by accident.
The pair come on as stage manager and technician respectively, killing time until the late Goodbear arrive. They compare notes on how to properly act out a death (the David Mitchell-esque Barnes wins this, with his full-on Vietnam epic), and they interact with the light and sound tech called Dougal. A lot of the sketches segue from conversations and leach into each other, and yet it is always clear as a bell as to what is happening.
They have a particular penchant for pastiching big emotional scenes in film or TV, like the 'Nam death sequence, a take on Forrest Gump, and an Italian-American family drama where the father just won't let the son move out of the house. In these scenes, they are laser-like in their precision of the language and the dynamics.
On other occasions they resort to physical humour. Their romantic proposal scene, in which the guy takes the woman for a very silly walk, is brilliant in how understated it is. This scene is reprised later in the show, getting more exaggerated each time. At first, I feel it spoils the subtlety of the original, but it becomes a satisfying new thing in itself, and provides a wonderful finale, too.
As a duo, Barnes and Perryment complement each other without one dominating. It's almost as if the sketches are more important than the glory.
Perryment's finest moment is probably his David Blaine piss-take which is creepy as hell; for Barnes it's the soldier returning home after 'the war' and the awkward conversation he has at the doorstep.
The only slight snag is that the quality dips just a smidgeon after the first 20 minutes, with a few of the shorter, snappier sketches coming across as if they are filler. But that's a harsh assessment, and it is an effective technique to quicken the pace as the show goes on.
The finale indicates their lightness of touch, getting the audience to contribute to the starry atmosphere with our phone torches, but capping our involvement there.
It's unusual for a sketch act to finish on a softer note than a really big bang, but it works, and suggests that these two have total confidence in what they're doing. And they should do, because it's sketch of extremely high quality.
Review date: 20 Aug 2019
Reviewed by: Paul Fleckney
Reviewed at: Pleasance Dome
Recent Reviews
What do you think?