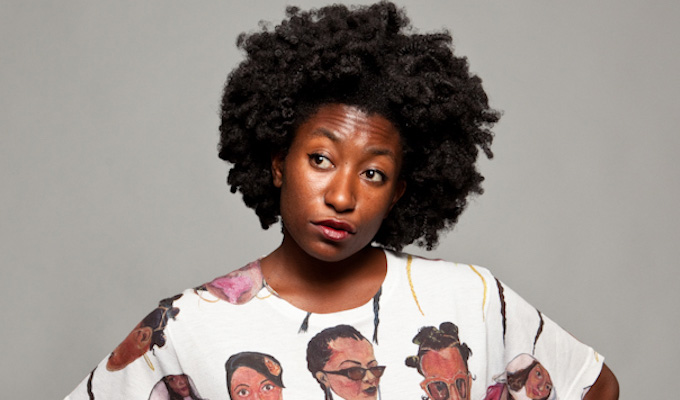 Sophie Duker: Venus
Note: This review is from 2019
If you like shows that the Daily Mail would hate, then this is the show for you. Sophie Duker's debut considers some of the modern classics: identity, privilege, the sexuality spectrum, wokeness, mental health and white saviours. And it's great. She is great. It is only a debut and she's far from the finished product, especially in some of the gag-writing, but she is clearly a talent.
The show is framed around a slave who came from South Africa to London in the 1800s, the Black Venus, and who ended up dead at 26 and displayed in a museum. Duker – who kept her sexuality secret from her family – concludes that she needs to take control of her story, or others will do it for her.
This aspect of Duker wanting to be more mentally well and honest with her family comes at the end, rather than being something that drives the show.
Instead, Venus is more a collection of material with race and sexuality the two major themes. Some of her best routines are about race and dating, particularly how white people on Tinder cynically use photos of themselves with black children (and worse). This ties nicely to a piece about 'Stacey Dooley Syndrome' (ie white saviours), which is presented very smartly rather than being just another bit of stand-up.
Duker also describes how she has to suppress parts of her personality so as not to perpetuate any racial stereotypes, namely dancing well and showing anger.
This might be a useful thing for white audience members to hear, in case they were unaware of their privilege.
Speaking of white people, Duker is definitely comfortable with making them feel uncomfortable, asking a woman on the front row to describe the colour of her skin, and singling out a 'white man ambassador' for the crowd. But she does this in such a way that the discomfort quickly dissipates. It seems to me that she wants to talk about these subjects but has no desire to be hostile or alienating to anyone.
Duker crams a lot into the hour, and one of the most interesting aspects is her search for role models. Meghan Markle doesn't do it for her, but almost any West African 'auntie' does, as does a black porn actor called Skin Diamond, who was (in a way) the first female Doctor Who.
All in all, Venus is a thoughtful, charming and unflinching show, in which Duker investigates her impulses and habits, as well as the wider structures that keep people in place. She also has a sense of fun that pervades the show, making it a nice mix of light and weighty. We'll be seeing more of Duker, for sure.
Review date: 20 Aug 2019
Reviewed by: Paul Fleckney
Reviewed at: Pleasance Courtyard