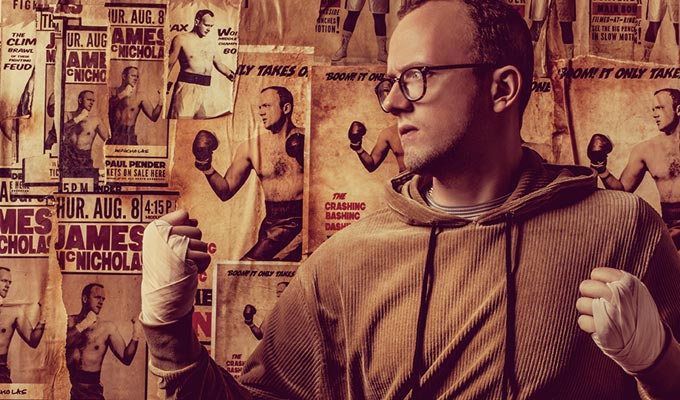 James McNicholas: The Boxer
Have you no interest in boxing? Well, not to worry, nor does James McNicholas, not really. He did most of his research for this show by watching the scores of movies Hollywood has made about pugilism and realising they all have the same scriptwriting-by-numbers format. Now that might come in useful for a struggling actor-comedian looking to structure a solo show too….
But the true reasons for going down that rabbit-hole of right hooks was that McNicholas wanted to tell the story of his grandfather Terry Downes, the 1961 middleweight champion of the world, who fought under the nickname The Paddington Express.
Needless to say, McNicholas can't help but compare his life to what Downes had achieved by the same time, and inevitably comes up wanting. That one advert he filmed for the Belgium cheese cracker market isn't quite the same as a championship belt.
The story is told in chapters to coincide with the movies' plot points, and with McNicholas alternatively as himself and as the champ, using all the character skills he learned with sketch trip Beasts and still not entirely shedding the image of the bespectacled nerd.
As the working-class Downes, he's nimble and fast, offering a volley of short jabs such as puns and bait-and-switches. Quality control isn't the tightest, but some lines are excellent. These segments are designed to ramp up the gag rate, even if it means separating the jokes from the main thrust of the story as told by McNicholas.
The comic also deploys the device of a singing telegram to deliver bad news, sparingly but very effectively, and a screen to show genuine archive footage of his grandfather's fights as well as an interview with his grandmother in her youth. She later makes a contemporary appearance to zip past and present together.
This comes as the story takes an unforeseeable turn that throws matters into sharp focus for McNicholas, as well as throwing an extra heap of emotional ballast into the show's final act. So the story turns out more touching than you might think from the respectful but light-hearted portrait of his ancestor.
Review date: 19 Aug 2019
Reviewed by: Steve Bennett
Reviewed at: Pleasance Courtyard
Recent Reviews
What do you think?