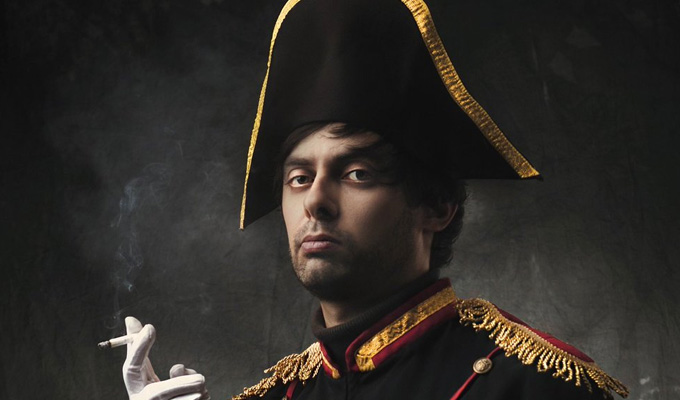 Marcel Lucont: No. Dix
A decade is a long time to sustain any comedy character, especially one still to acquire his own television vehicle. But like the fine red wine he casually sips, Marcel Lucont is ageing beautifully, every facet of his personality second nature to his creator Alexis Dubus.
With his impregnable sense of self-importance, it makes sense to acclaim this tenth anniversary of his first Fringe bow. But write a full hour? Non, absolument pas. Instead, the supercilious Frenchman is embracing improv with a jazzy insouciance.
Although as structured, in its way, as his previous Whine List shows with their audience interaction element, he's also splashed out on a backing trio of musicians. However, this is not the band Lucont envisaged. Sexual over-indulgence did for the expensive French chamber orchestra he'd originally recruited, so he's been lumped with a mute, resentful British threesome that he treats with absolute disdain.
His nihilistic opening number, an up-tempo but pessimistic appraisal of the world sets a mood of casual indifference. Everything's broken or on fire, so why care? Having mocked the British for so long, they've set out on a Brexit path of self-destruction he shrugs, so his work is essentially done. Nevertheless, he can appreciate Boris Johnson as a leader in the French mould.
Lucont's own conquests, past and to be plucked from the seating banks, are honoured in a languid ode, before he settles into the show's abiding groove, a casual interrogation of the audience set to soft jazz. Taking the chance to be sniffy about the bourgeois occupations he uncovers, insinuating uncomfortable relationships between friends, it's typical compere crowd work slowed down to a more relaxed, longer-form dialogue.
Drawing from his life as a touring comic, Dubus uses Lucont to test his passing knowledge of British cities, cutting to the quick of a place's negative stereotypes. Unhurriedly riffing, when he alights on a pet peeve he ratchets the snobbery up several notches. A woman from Leicester is sternly rebuked for the city's red cheese, part of a no doubt ready-to-go scathing diatribe about mild, flavourless British fromage held in reserve for such an airing.
Notwithstanding his assumed, instinctive superiority, narrowing his eyes at anything that provokes his condescension, Lucont is actually a deceptively generous host – rolling with any efforts to wrongfoot him and deigning to allow a fellow Fringe performer in the audience to plug her show. Another accompanies the band on guitar, with the bonus of piquing his bassist.
Elsewhere, he ascribes the fire at Notre Dame cathedral to Gallic suspicion of government and proof that God is French. This prompts some poetry from his self-penned 'Imbible', a series of witty Biblical gags dressed up as ruminations on Jesus's relationship with wine.
Typically for such a blithe disrespecter of social mores and petty convention, one of his formative erotic awakenings took place in a church. And while Holy Fuck is a breathy, urgent tune, the snap punchline plays into British suspicions about degenerate continentals. This is reiterated in the next song, 15-Love, in which the tennis scoring system underpins a reminisce of some of his most inappropriate couplings, the metaphor becoming increasingly and filthily literal.
A closing poem dresses up the degrading necessity of plugging Marcel merchandise. He leaves the band play out, with Jonathan Kitching, Laurence Owen and Patrick Stockbridge's silent, grudging but attuned reactions to his prompts having been a significant factor in sustaining this undemanding, and enjoyable audience-with variation.
Review date: 16 Aug 2019
Reviewed by: Jay Richardson
Reviewed at: Pleasance Courtyard
Recent Reviews
What do you think?