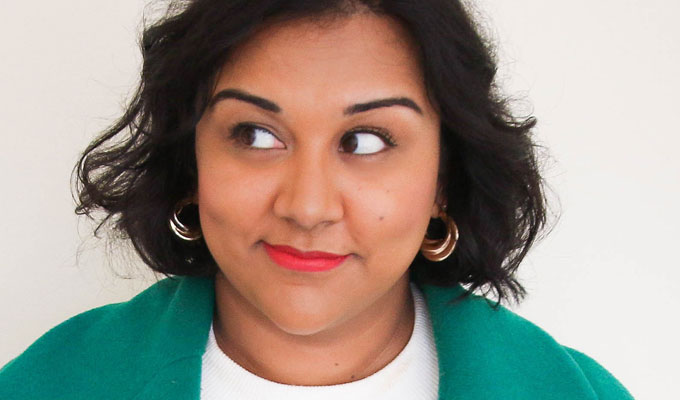 Sukh Ojla: For Sukh's Sake
This is a dramatic monologue on being a depressed, suicidal, control freak, that elicits only sparse titters throughout. The show is a speech, a confession, a story of explicit therapy. It's well conveyed by the very theatre-schoolish Sukh Ojla, and dramatically well done. But doesn't chime the essential bells of stand-up.
Ojla introduces this as 'not another show about a guy trying and failing to get laid'. Fair point, indeed. However, she then proceeds to do another show about a woman being single, going on bad Tinder dates and having to move back in with her parents.
She leads the audience through detailed, dark stories of her fluctuating mental health, most notably a teenage suicide attempt, and a Rochester-train-station-cheese-and-onion-pasty-breakdown.
All leads to her core premise and her set's main content. Aged 35, she set out on a secret (from her overbearing Punjabi mum) Spanish retreat to take the hallucinogenic ayahuasca, to 'find herself'.
This story, containing all the potential flaws en route - from the Gatwick 4am start, to the many recorded ayahuasca deaths, to the fear she'll 'purge from both ends' in front of all the hippies sharing the experience - is engaging, interesting and entertaining. But just doesn't contain anywhere near enough laughs for a premise with such potential.
The end points of Ojla's stories and digressions are always moments of pathos, or points on mental health. That's key to this, and many other Edinburgh shows, and very important. But this hour does not have enough jokes weaved in. It's all pathos.
Ultimately, she reflects that her experiences have led to her finding some peace with body image issues that have plagued her for years. Particularly via a hallucinated conversation with her five-year-old self.
There are a great many promising ideas here, and a skilled communicator to deliver them, but the comedic payoff that both concept and performer deserve never really comes.
Review date: 15 Aug 2019
Reviewed by: Alex Bruce
Reviewed at: Gilded Balloon Patter Hoose
Recent Reviews
What do you think?