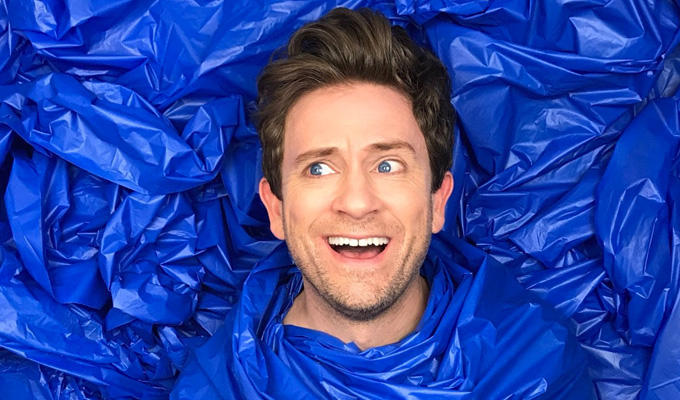 Tom Lenk Is Trash
This undercooked hour could be more accurately titled '20 random, ill-conceived, self-celebratory, desperate ways to attempt to keep 40 people's attention'.
Lenk begins with a humourless intro song, in place only to demonstrate what he thinks is his impressive vocal ability, then an even more pointless piece of white-wine-and-banter-based audience participation.
It - somehow - goes downhill from there, as he snatches an audience member's spectacles to wear, before taking other audience member's bags and rifling through their possessions, passing comment.
It isn't funny –but then nor are the songs, wigs and props – and shows a lack of awareness and sensitivity to boundaries. These acts are not consensual - in that they rely on paying audience members being too uncomfortable to say no. Perhaps some aren't bothered, or are neutral, but does anyone really, actively want this treatment? Incidentally, Michael Barrymore did the same trick on his ill-advised stage comeback 16 years ago…
It's painfully apparent Lenk has simply bounded onstage with the intention of doing random, noisy, weird or supposedly 'edgy' things, hoping the audience will themselves find meaning in what is an hour of comedy-emperor's-new-clothes.
He commences a lecture from on high that doesn't demonstrate anything to warrant an elevated status. He describes his social media 'empire' as having eclipsed his 20 year acting career, then shares a slideshow of what he thinks are his funniest Instagram posts. In fact, a large section of the show is merely a thinly-veiled pitch about why he's just-so-bloody-funny online.
When it isn't that, it's either a redundant sewing machine gimmick, him marking on a board when phases of the show are complete, or a group craft session as American Aileen (who's almost as hard to watch as her infamous namesake serial killer)
Yes he appeals to a section of the audience, 20 per cent of whom are either enjoying the show, or are so awkward in silence that they simply have to laugh. They could conceivably feel they're at the pub with their lively, attention-seeking, annoying, funny mate. But even that would be a generous summary of the level of humour present here.
Many stories are told only to not-so-subtly reveal the things he has done and the acting roles he's had, as he mentions the name of a TV show he's been in, then excruciatingly hesitates (in vain) for a congratulatory applause break that's more at home on a whooping US chat show than in a giant crate in Scotland.
Lenk – who is genuinely good in the returning Fringe hit Tilda Swinton Answers An Ad On Craigslist – is self-celebratory throughout this. Even as he cites negative Facebook comments or bad reviews, it's only a flimsy vehicle to get to his apparently brilliant comedbacks in full. Presented as: 'Can you believe what this nasty person said?' The reality is: 'Listen to my witty response'
This almost explicit defensiveness is a real turn-off, and also reveals many earlier bits that could have been either arrogance or irony were surely the former.
He attempts to mock a recent 2* review for this show which called him under-prepared and under-rehearsed. 'That's the point of it!' He exclaims. Fair enough, but that doesn't make it good. Because it really, really isn't.
Review date: 15 Aug 2019
Reviewed by: Alex Bruce
Reviewed at: Assembly George Square
Recent Reviews
What do you think?