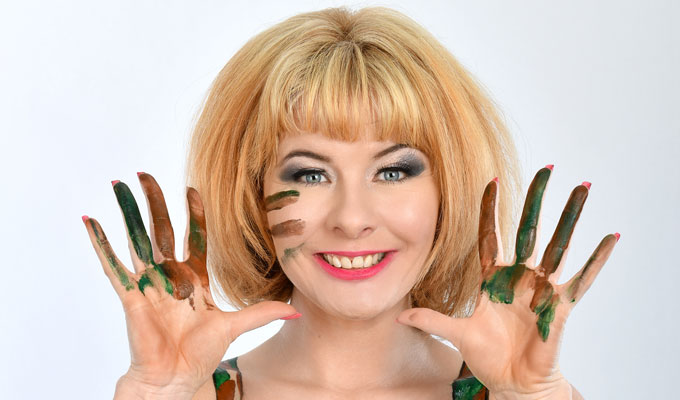 Samantha Pressdee: Covered
Samantha Pressdee is in a bind. Comedy helps her vocalise her struggles with her mental health – but her gauche, outspoken declarations have seen her obstructed, ostracised and denied the assistance she needs, as well as preyed upon by shadowy, malevolent forces.
As a committed anarcho-feminist activist, she's used to fighting oppressive odds, campaigning for social housing and against the demolition of the Sweets Way estate in London. She also has to battle the bureaucracy of austerity that's made the psychiatric help and living assistance she's seeking more difficult to access. And this is part of a broader rail against the state and its treatment of her dementia-suffering father.
In outlining her situation, Pressdee characterises her bi-polarity as split into diligent Wendy, the milk of human altruism, and mischievous Tinkerbell, seeking to outrage and fuck things up. Between them they get her up on stage and committed to overthrowing the system
This brought her the attention of her internet troll, a man seemingly intent on persecuting her into madness. Perhaps ill-advisedly fighting fire with fire, and repurposing dildos as puppets, her actions, as she relates them, led to her being ignored by the police, reprimanded by the Comedians' Guild and left helpless by the Equity union.
She has her cousin, the campaigning comic Mark Thomas in her corner. And Russell Brand, though his endeavours as a figurehead for the Sweets Way campaign are reflected more in the fan worship of Pressdee's comrade Sarah.
Pressdee's account is digressive and veers in tone, with fierce condemnation of the social conditions that enabled the Grenfell disaster, reminiscences of her upbringing in the Black Country, but also disclosing her sectioning and instances of socially inappropriate behaviour. At its most effective, it's impassioned, first-hand polemic from someone who's been through tough times and is emerging, with her sense of humour and sense of the ridiculous largely intact.
Loosely structured around the fate of her friends and the support that once bolstered and sustained her, her abiding emotion is anger at an unfeeling, insensitive world unmoved by the plight of the excluded.
Though persuasive agit-prop and perhaps good therapy, with Pressdee as an engagingly puckish, self-declared 'ditzy' storyteller, Covered is nevertheless light on laughs, even if plenty of those that do land are provocatively discomforting.
Review date: 14 Aug 2019
Reviewed by: Jay Richardson
Reviewed at: PQA Venues @Riddle's Court
Recent Reviews
What do you think?