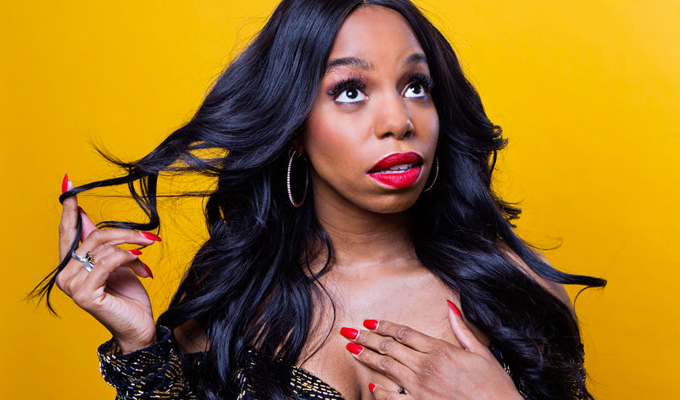 London Hughes: To Catch A D*ck
No prizes for guessing what this is about - and no, it's not duck shooting. The Fringe guide's censorious caution notwithstanding, this delivers what it promises: a fully raucous hour of frank and funny tales from a battle-hardened veteran of the dating scene.
Hughes clearly believes in the mantra that you should perform for the gig you want, not the gig you have, and fires more energy into the cramped Pleasance Attic as she would in the O2.
And the audience – which contains six men to more than 40 women tonight – returns it, hollering their support, rocking back in laughter. There have been quieter audiences on Jerry Springer, and Hughes encourages it, forging an easy rapport with everyone with her supercharged swagger, her disarming honesty and her ability to ad-lib around crowd interactions while keeping the show on track.
'Sex-positive' doesn't begin to cover her enthusiasm for the subject that dwells on her one-track mind, as she gleefully reclaims the word 'ho' as a badge – or should that be vadge – of honour.
'Write what you know' is the oldest adage in the book, and Hughes has done her research. She takes us through her dating life from school to now, when she's hoping to settle down. She believes it's time to end the one-night stands now she's turning 30.
However, she also thinks the prospects of that aren't great since she finds most men consider her 'too much'. She gives that notion short shrift, mind, arguing the confidence she exudes as a successful, attractive woman would be seen only as assets in a man. The feminist cry is loud from the start of this show to its climax, while she occasionally gets in a little jibe about race, too, all adding context to the crudity. But it's all undercurrent, as she's largely happy to be outrageously honest for its own sake.
As Hughes romps through her experiences, she's upfront about every detail. We learn that her first job in showbiz was working for Babestation, but she got fired for being too raunchy, and that the notches on her bedpost include encounters with a sugar daddy foot fetishist, a Lamborghini-driving investment banker and a future champion boxer.
She can report back, too, on her findings on how penises vary, while sharing some handy hints for the straight ladies and gay men in her target demographic – including an ice cream trick to revive flagging ardour. There must be a Hardon Dazs pun in there somewhere.
To Catch A Dick – if we can lose the coy asterisk – may ultimately be a triumph of vivacity and chutzpah over content. But what a victory it is! Whatever the female equivalent of big dick energy is, Hughes has it by the truck-load, and it's more than enough to ensure a wild and hilarious ride.
Review date: 12 Aug 2019
Reviewed by: Steve Bennett
Reviewed at: Pleasance Courtyard
Recent Reviews
What do you think?