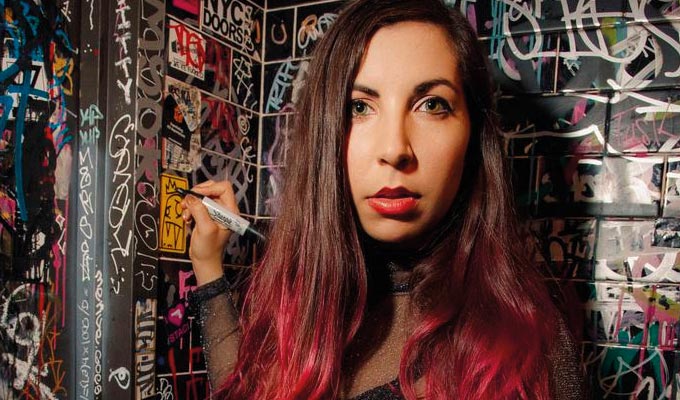 Caitlin Cook: Death Wish
Caitlin Cook blames both her previous job as a pre-school teacher and the lazily ironic Los Angles drawl for making her sound patronising. Whatever the reasons, her show is delivered at an emotional distance, with many of the lines literally going over the audience's heads as she projects them towards the back ceiling of this already sterile conference room.
Further detachment comes as her material sounds decidedly 'written', too precisely conveyed compared to the loose conversational style of most stand-ups. Jokes are given no extra push but delivered in the same measured rhythm of the story, so many pass by unnoticed.
Much of her material is not exactly convincing in its arguments, either. 'Everyone she has a superpower,' she asserts, citing Olympians, world-record holders and a relative who has the 'superpower' of ordering whatever the restaurant kitchen has run out of. Sounds like a family in-joke that should have remained in the family.
She's better when she cracks out the songs, musically if not lyrically. One based on completing the phrase 'I want you to love me like…' in various ways is effective if formulaic; another uses the found comedy of toilet cubicle graffiti; while a third about petty annoyances doesn't push beyond complaining about the likes of people who stop suddenly in the street.
The stated premise of the show is that Cook wants to do things that scare her, though she doesn't get too stuck into that notion, instead running us through her art history dissertation on small penises in classical sculpture (for real) or deconstructing cutesy animal memes.
But she is one of those Fringe comedians with a final-act revelation – and Cook's confession is a big one. There are a couple of jokes, but the dramatic story is to the fore here, and with something of substance to talk about she becomes far more engaging.
Some – but not all – of those earlier ideas that seemed trivial are incorporated back into the story more neatly than the initial routines would suggest. But even after we hear of her life-changing experience, told with honesty and some long-overdue emotion, the impression lingers that the first two-thirds of the show is underpowered and does little to lay any groundwork for big bombshell that drives the last third.
Review date: 12 Aug 2019
Reviewed by: Steve Bennett
Reviewed at: Just the Tonic at The Grassmarket Centre
Recent Reviews
What do you think?