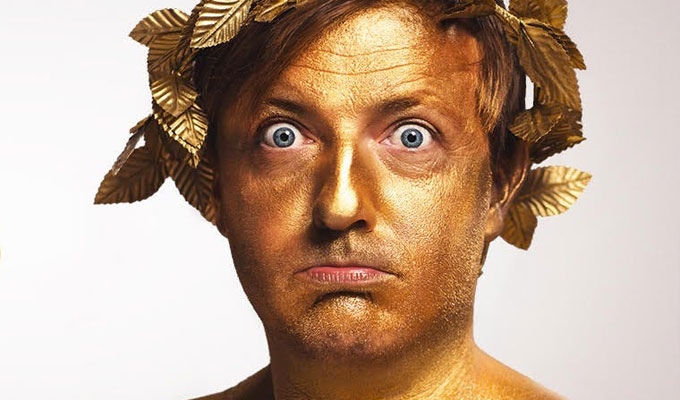 Julius 'Call Me Caesar' Caesar
This is quite fabulous: Andrew Maxwell displaying his acting chops in Owen McCafferty's excellent re-imagining of Julius Caesar. Mixing some Shakespeare with contemporary language this made accessible and understandable what, for me, is one of the duller Shakespeare plays. Anyone who has been lumbered with doing it for A- level next year should jump on this, which would lend itself to a TV version for the same reason.
But you can't beat live performance, and this is the sort of show that reminds you why even a scaled-down version in a room is better than watching on a laptop.
Maxwell plays everyone, from the Soothsayer (straight out of Up Pompeii for anyone old enough to recall) to Caesar's wife and then Caesar, Brutus, Antony, Cassius, the whole lot. It's a sprint through the play, but with salient points made clear and his commentary adding illumination. He conjures up as much atmosphere by himself as the RSC does with a large cast, using the audience as a crowd of Caesar supporters, whoever is claiming the top job.
There are comic moments; how could there not be? But this is a powerful, energising morsel of the classics dragged into 21st Century. The simple set, with a roll of white studio paper across the floor reflecting light back at Maxwell in a white, blood-spattered boiler suit (very Hannibal Lecter) is spare and effective. Effort has been made and, thought has been put into the way this looks, taking it beyond another black-box production.
Maxwell fans will enjoy seeing his energy channelled into a dramatic performance, Shakespeare fans should be delighted by this pacy and exciting re-imagining. Julius Caesar has never been this much fun, but the integrity of the classic is maintained, it's not a cheap parody.
Review date: 11 Aug 2019
Reviewed by: Julia Chamberlain
Reviewed at: Gilded Balloon Patter Hoose
Recent Reviews
What do you think?