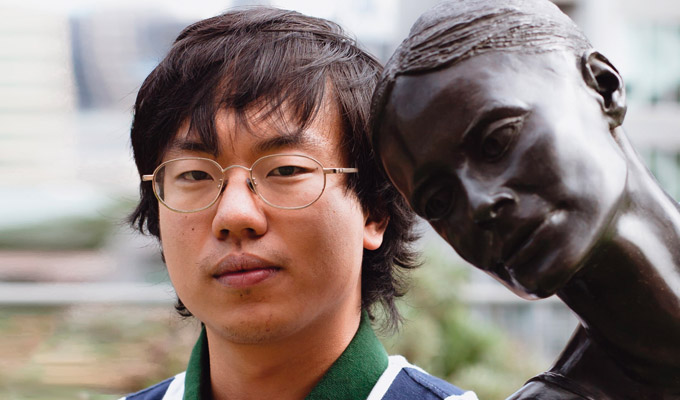 Aaron Chen: Piss Off (Just Kidding)
Aaron Chan first came to attention in his native Australia for his intensely awkward performances, revelling in the discomfort of his audiences. It was a style that won him best newcomer at the 2017 Melbourne International Comedy Festival.
Since then, like many stand-ups who start with an anti-comedy vibe, he's learned to knock the harsher edges off the style so as not to alienate so many people. Now he's a bit more relatable, even if he remains a laconic, slightly uncomfortable-looking comic with an obstinate quirkiness born from being a social outsider.
He's still relatively deadpan and on the back foot, stilted and rambling at the same time. A typical physical stance is to place his left arm across his stomach while holding the mic in his right. It could be related to one of his gags, but it looks as if trying to quell an anxiety within, which lowers our expectations of him.
In real life, he confesses to being too polite to say no, which leads to a slightly eccentric story of being collared by a Chinese woman on a flight, a journey which forms a through-line for the show, in which he's helpful but resentful.
The serialised story of Crazy Rich Aaron, in which he imagined himself to be a playboy millionaire, is harder to love. The joke is that it's an immature fantasy, but it's not layered and didn't seem worthy of repeat visits.
But feeling that he's superior, despite the many outward signs that he's a beta male, is a crucial part of his persona, finding humour in that contradiction. He projects irritation when he feels we're not as smart as him, which is all the time – a position best demonstrated in the routine in which he amusingly explains the financial crash with needless jargon just to show off.
Although he's got the difficult balance between arrogance and weakness right in his stage manner, he doesn't find funny material that talks to that persona consistently enough. But there are certainly enough successful offbeat routines in Piss Off (Only Kidding) to mark him out as one to watch.
Review date: 9 Aug 2019
Reviewed by: Steve Bennett
Reviewed at: Pleasance Courtyard
Recent Reviews
What do you think?