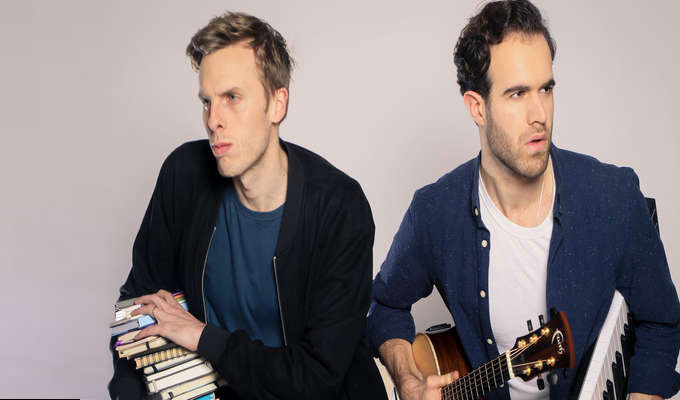 Harry And Chris: The One's For The Aliens
Harry and Chris have built up a loyal fan base, and rightfully so. The family-friendly musical comedy duo are two of the most likeable people in comedy. They greet the audience by offering Flying Saucer sweets – a small gesture that shows their goodwill as well as acknowledging the theme for the show: the hunt for extraterrestrials lifeforms.
The pair dread that aliens may choose not to land on this planet because of its political disorder and social disarray – so in a more optimistic spirit set out to prove there is beauty to be found in mankind.
They are armed with a roster of songs, with simplistic tunes serving perfectly executed lyrical witticisms in every track. Especially the one that encourages the audience to call out any words, which the pair incorporate into the lyrics to demonstrate their improvisational skills. The anticipation builds with everyone waiting to see how well or how poorly they utilise the words. But precisely how they carry it off doesn't matter, something this exciting and entertaining is simply a thrill to watch.
Laughter, cheers and applause rang out continually with the audience gleefully singing along. It's not hard to see why the Poetry slam champion Harry Baker and his jazz musician bestie Chris Read lure their audience in, for example getting the audience to questions by putting their hands on certain parts of their body until the last person is standing.
Their chemistry makes them an enjoyable watch. Bouncing off one and another, making each other laugh and generally enjoying themselves; you can only reciprocate.
This One Is For The Aliens is a crisp, clean, engaging, entertaining but most importantly, a funny show. Harry and Chris are likeable pair who just want you to have a good time; I'd struggle to find anyone who wouldn't.
Review date: 6 Aug 2019
Reviewed by: Jack Boyles
Reviewed at: Underbelly Cowgate
Recent Reviews
What do you think?