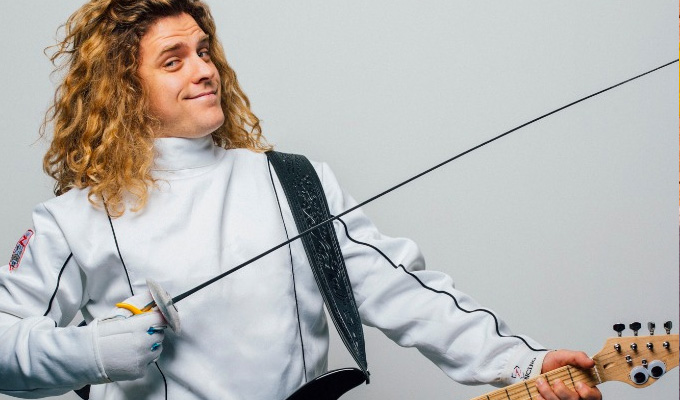 Grant Busé: Touché Busé
Some musical comedians struggle to balance their songs and their stand-up sections – and that's exactly where Grant Busé comes unstuck.
Touché Busé tries to cram in too much, resulting in the hour feeling directionless and incohesive. Busé will briefly do a stand-up section, then quickly go into a song and back again. It makes it hard to latch onto anything or fully immerse yourself in the experience.
That's not to say the show isn't funny or entertaining, with some well-executed tracks, including one in which he improvises an audience member's name and career into a sensual song, adding mouth-trumpet noises too.
Likewise, Don't Stress – a track that starts about the worry of leaving the front door unlocked and escalating from there – really builds. It's also the only number where Grant is free from his musical instruments, allowing him to show off his physical comedy.
Furthermore, there are some great stand-up sections. Busé's take on Brexit landed well, while repetitive faux-boasting that he was in Neighbours for four episodes never got old – surprisingly – thanks to the energy he put into it.
The highlight of the show is near the end when Grant satirises how often Leonard Cohen's Hallelujah is covered – by covering Leonard Cohen's Hallelujah. He gets the audience involved and by the end, they erupt in laughter and cheers as the singalong evokes a real sense of togetherness.

The show tries to have a meaningful point, but never really establishes itself, save for a brief section at the end, because of how choppy everything is.

It's a real shame because there is no denying Grant's talent. But this show lacks clarity of execution, trying to cram in as much as he possibly can, instead of allowing his material to breathe.
Review date: 5 Aug 2019
Reviewed by: Jack Boyles
Recent Reviews
What do you think?