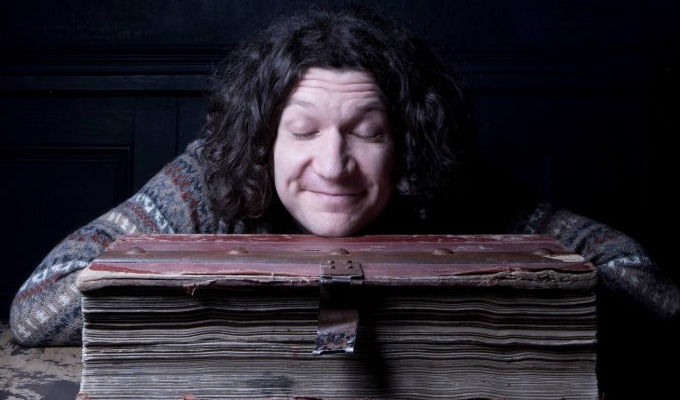 Ben Van der Velde: Fablemaker
Ben Van Der Velde spins many crowd work plates in Fablemaker, seeking a patchwork narrative in a one-man improv show entirely comprising audience interaction. In fact, he talks to almost every audience member.
He immediately identifies two front row 'sitting duck City boys', then doubles his luck, discovering almost everyone on the second row is a charity worker.
He hops excitedly from the City boys to charity workers to medical students to American tourists. While partially working with easy stereotypes, he does so quickly, skilfully establishing several pockets of reference around the room and setting up interplaying callbacks galore.
True to his Fablemaker title, Van Der Velde strings impressive webs from bare threads and has clearly found his forte. His throwaway jests at times reveal painfully astute observations. He's part stand-up, part-cold reader, guessing professions, childhood details and relationship statuses.
However, it can also be laboured: many interactions last too long or pry too deeply. And although he's likeable and funny, and any audience member with whom he's interacting seems comfortable, everyone else doesn't. They're also perhaps preoccupied more by preparing their own answers to his stock questions ('What's the most charitable thing you've done this year?') than engaging with the show.
The tension in the room grows as it becomes apparent he's going to talk to (almost) everyone. Fablemaker would be better suited to a larger room, as this would mean only the front two rows get what they expect, and to some extent deserve.
The reality tonight is that the front two rows comprise uneasy victims urged forward to mask a room at half capacity. Most of whom originally sat as far back as possible, presumably thinking 'I hope the comedian doesn't talk to me'.
Van Der Velde returns to his well-established (and well-remembered) key audience members with a rhythm that doesn't let up. Some of the funniest lines come from the audience themselves, though maybe that's inevitable in a show of entirely crowd work. And, in fairness, it's often the well-timed reactions of the comedian onstage that transform these moments into big laughs.
While the speed, rhythm and creativity of his responses are fantastic, and essential to good improv, it does make for some rather large and clunky misfires, not that these affect him.
His speed and desire in 'making a fable' unfortunately means some lines are blurted in a desperate search for continuity, and therefore don't land, or aren't appropriate.
There's an incredibly cheap sexual innuendo before he tells a lady whose daughter is doing dangerous charity work in Cambodia: 'Your daughter's probably dead by now.' It's (sort of) in context, and dark humour has its place, but this is too far, isn't funny, and doesn't sit with his natural, good-natured overtones.
He ultimately frames the show as the front row's greed vs. the second row's charity. His final ten minutes attempting to knot the show's many threads could hardly be called a majestic summary but is a solid effort given the materials he has to work with.
Fablemaker is part impressive, deft and skilful, and part questionable in its patchwork nature. Van Der Velde undoubtedly makes fables, some of which unfortunately miss the mark though others do land with laughter and meaning.
Review date: 3 Aug 2019
Reviewed by: Alex Bruce
Reviewed at: Laughing Horse @ Ushers
Recent Reviews
What do you think?