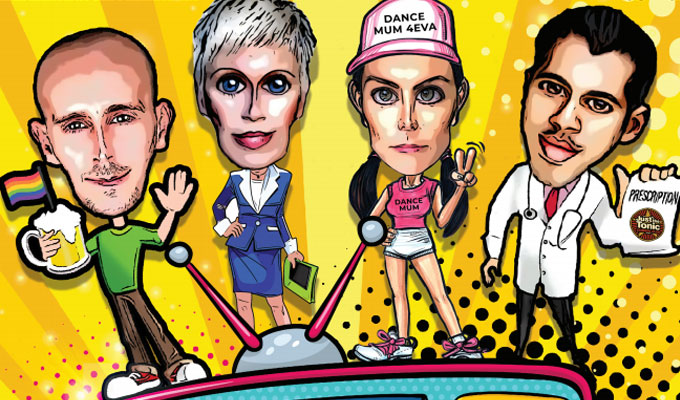 Sketch You Up!
Four strong performers offer an energetic hour that's far more convincing than so many sketch offerings. No frills, well-observed, character-driven scenarios (and some brilliant songs) outshine many other shows' elaborate premises, thanks to good performances and robust writing.
The first sketch brings together two furiously competitive, pushy mums of child theatre starlets. An immediately relatable scene with snappy back-and-forth, it takes a little too long to get going, but when the escalation does come, it's lively, bitter and extreme.
The second sketch introduces the show's best characters - two gay, male, heterophobic friends bitching about their acquaintance 'Straight Dave' in a flip-reverse subversion that sees everything about heterosexuality suddenly under a comedic microscope. There are superb performances here. Writer Dan Robinson's delivery and Peter Caulfield's physical comedy, playing extreme-camp Scouse while dressed in the height of gay pride glamour.
The other two performers are equally good in different ways. Helen Siveter brings attitude to all her performances, while Rachel Stanley offers comedic melodrama. Both shine as their recurring theatre box office characters, even if the sketch is a bit more old-fashioned and based on puns and wordplay. It's terrific, but the group's strongest suit is modern, bitey observation.
Admittedly, it's not all tip-top. Sketches featuring stereotypical snobby ladies in cafes discussing Waitrose and childcare might be solid with their writing or performance – and, in fact, contain some decent character-revealing throwaways – but this is old, much-explored ground, and these more over-the-top roles don't suit the considerable talents of Siveter and Stanley quite so well. The performers are at their best playing disdainful, sarcastic, up-to-date characters, rather than these sometimes simplistic Hyacinth Bucket repetitions.
Otherwise, this mostly well-paced show doesn't drag, whizzing through other solid sketches, including the return of the pushy theatre mums and an awkward first date, which is good, though light on funnies until rescued by a wicked Chuckle Brothers-related line.
The overriding feeling is just how believable this all is, especially for a sketch show. In a way, the team hasn't been over-ambitious, using only tables and chairs as props, only four performers, and social interaction prioritised above zany, crazy scenarios. And though a few better punches are needed in this middle section, the writing and performing is generally strong and permitted to speak for itself.
They are, however, ambitious in other ways. The show takes off spectacularly and unexpectedly with an Adele reworking that is everything musical comedy should be - surprising, revealing, uplifting, and funnier than you think it's going to be.
Fittingly, the final sketch is the strongest. With a cutting dissection of lad culture and a brilliant reworking of Abba, this scene, like the whole show and its creators, has much to offer.

Review date: 3 Aug 2019
Reviewed by: Alex Bruce
Reviewed at: Just the Tonic at The Charteris Centre
Recent Reviews
What do you think?