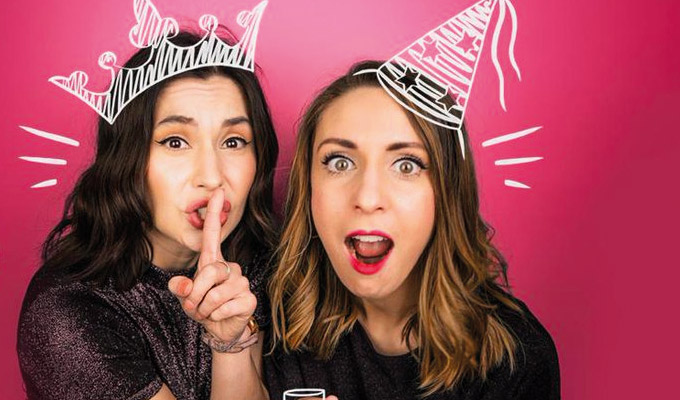 Ladylikes: Top Secret House Party!
Ladylikes are two peppy, fun performers tapping into the universal mores of women in their early thirties, where carefree vim starts butting up against life's realities.
So there is much in Secret House Party to identify with, from demanding Bridezillas to over-competitive frenemies. But one woman's relatable is another woman's generic, and Miztli Rose Neville and Phoebe Batteson-Brown find themselves in a well-ploughed comedy furrow, with characters and situations that are over-familiar.
Yet their enthusiasm, amiability and commitment make the hour breezily enjoyable, and sometimes – but by no means always – they take their old-school archetypes into more creative territory. That pushy bride, for example, brings a fiercely corporate attitude to selecting the maid of honour that makes for a strong sketch with purpose.
Likewise, the 'prevention princess' offering age-inappropriate life warnings at a children's party is not such a inspired premise, but the sparkly energy delights while the punny script crams the gags in.
That's not always so: the New Year's Eve sketch looks at a dystopian future, but it's only really a lot of only mildly amusing variations on how the environment will have gone to pot by then. And clunkily explaining Gilead isn't going to make the joke any funnier those who haven't read or watched The Handmaid's Tale. This is a Bona Fide dud of a scene.
And in the sketch set at Halloween (each skit is based around a party possibility, that's the theme) suggesting that the real stuff of nightmares is getting your career and personal life together as you enter your 30s feels like an old gag.
They're not alone among sketch acts at being bad at endings, too, more than once tagging a 'thank you' on the end to elicit applause as the chosen punchline was not as final – or as funny – as they would have hoped.
Such solicitation is always in the same cheery spirit as the rest of the show, however. These are drama school graduates who revel in being on stage, especially the spirited song-and-dance numbers – which peak early with an opening parody of Kei$ha's Tik Tok about the reality of clubbing. More than one iffy sketch is saved by the full-throated dedication they deploy in performing it.
They are charismatic women you'd like to see more of – but they'll need to punch up the writing for that to happen.
Review date: 3 Aug 2019
Reviewed by: Steve Bennett
Reviewed at: Just the Tonic at Marlin's Wynd
Recent Reviews
What do you think?