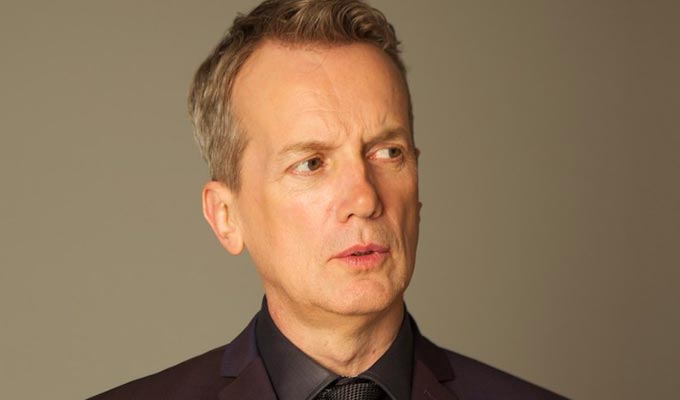 Frank Skinner at Latitude
Frank Skinner is amused to find himself playing a music festival at 62, likening his longevity to 'seeing a wasp in November'.
It is, admittedly, an age when some performers might start slipping into cosy anecdotage. And he's not entirely immune from that, with plenty routines likely to form part of his forthcoming tour since they come under its title of Showbiz. There's a gossipy story that might dent Bruce Forsyth's image, a great heckler tale involving a pre-Gogglebox Laurence Fox in a serious play, and a bit of wonderfully arcane celebrity trivia about Bob Dylan
This last one comes in a routine that starts 'I went to Elton John's villa in Nice...' – a none-too subtle reminder that for all his everyman credentials, Skinner isn't QUITE like the rest of us. When he begins another gag, 'I was on the bus…', you want to reply: 'No you weren't.' Not this century, at least.

Later he does have a bit of fun with the fact that he's done all right for himself, cheekily boasting about the size of his house. But even here, he's not the winner of the story, since his advancing years has given him plenty of aches and pains to gripe about. He increasingly finds he cannot trust his body.
Skinner first built his reputation back in the early 1990s for speaking honestly about sex, being graphic but never gratuitous. Today he deploys the same sensibilities to talk about wiping his arse. How times have changed.

Being so long in the game, and with little to prove, Skinner is, of course, relaxed on stage. There's no urgency to belt out a punchy gag every minute, and he digresses and bimbles his way through unconnected material.
However, the casual, underplayed matter-of-factness is part of his appeal, making it seem almost accidental when he stumbles on a great phrase he's clearly written. A few months out from the start of his tour, he's still perhaps a bit too loose, but there's still more than a little sting in this ageing wasp yet.
Review date: 22 Jul 2019
Reviewed by: Steve Bennett
Reviewed at: Latitude
Recent Reviews
What do you think?