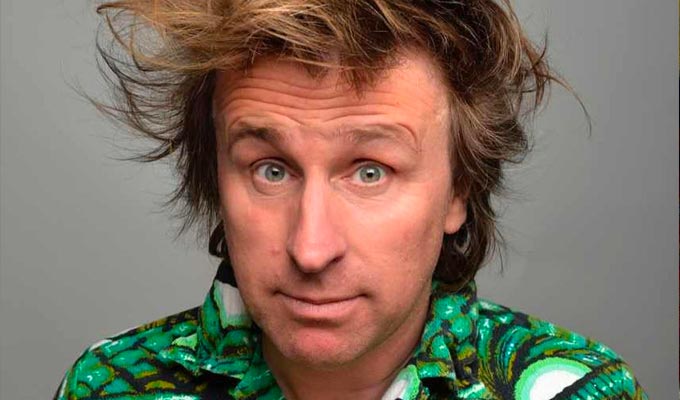 Milton Jones at Latitude 2019
Milton Jones emerges on to the Latitude stage with his hair as wild as always and smoke billowing behind him. He looks – and acts – like a mad scientist time traveller dumped in the middle of a Suffolk field, bewildered as to how he got here… an impression he maintains for his 45 minutes on stage.
We know by now what to expect of him, and he delivers: line after inventive line of offbeat wordplay and surreal phrase-making. It's hard to be a pun-monger and not deal in the obvious, but 90 per cent or more of Jones's examples are so obtuse that no one else could have come up with them. More than 20 years into a comedy career and he's still inventive and still prolific. There must be 100 gags an hour, and the quality bar is high.
Some laughs are uproarious as they tickle a funny bone, other laughs seem to be instantly regretted as punters feel somehow tricked by his misdirection. For however much you try to figure out where he's going – which you inevitably will – he's sure to wrongfoot you.
To pump up the gag rate further, he adds tag lines to the weirdest jokes and sometimes gets an extra laugh by explaining the gags, as if to the hard of thinking. Even just his intonation – and the context of knowing how silly he will inevitably be – can get a reaction. At one point he does, literally, get a laugh from repeating the instructions on the back of a ready meal: he's primed us to do the work for him.
It's almost wearying keeping up with his invention – and the only real criticism could be that there are not enough tonal shifts over a longer set such as this, When he does try to vary the pace with a couple of the longer jokes (up to a full 40 seconds!) it's not always as successful as the two-liners. But the rewards of paying attention are high. So we do, and, at Latitude as on Mock The Week, he delivers.
Review date: 22 Jul 2019
Reviewed by: Steve Bennett
Reviewed at: Latitude
Recent Reviews
What do you think?