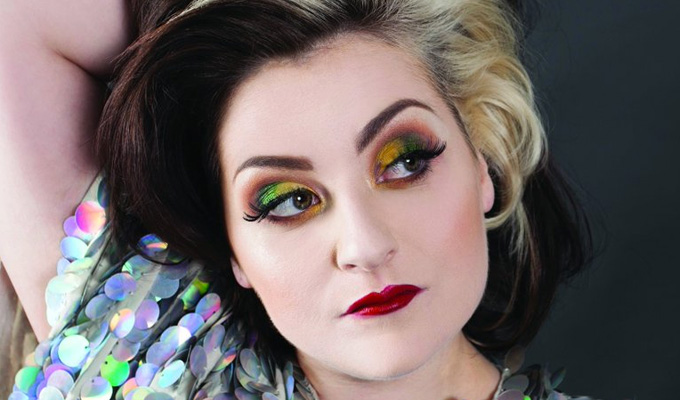 Kiri Pritchard-McLean at Latitude 2019
The threatened bad weather has largely stayed away from Latitude, but the heavens briefly opened during Kiri Pritchard-McLean's set, so heavily that she could liken it to 'what Christians would blame on gay people'.
But there was a storm going on inside the tent, too, as Pritchard-McLean delivered what's sure to be one of the best comedy sets of Latitude, while dressed in a spangly, figure-hugging outfit depicting the Welsh flag, complete with cape.
It's a look that screams confidence, as does her set that was honest, opinionated and hilarious, from discussing the downside of having big boobs - not least of which is the sort of men they attract - to the image she has indelibly etched on her brain after catching herself having sex in the mirror.
On a more observational tip, she has quips about the very different background she had from her more recently acquired posh friends, after realising comedy is not quite the preserve of the working-class voice she once naively believed it to be. She's also brilliantly withering with her insightfully accurate observations about chichi weddings planned by Pinterest.
Most subjects are widely relatable -but crucially if they aren't, she makes them so with her directness and wicked sense of humour. Though she presents her stand-up as conversational, as if an unfiltered conversation between mates, the writing is deceptively efficient, too. There's a gag or funny image every few seconds, their impact intensified by her attitude: always direct, always amused, always joyful, even when judgmental.
Stereophonics might have been flying the flag for Wales on the main stage later on Saturday night, but Pritchard-McLean's set was arguably an even bigger triumph, as the uproarious crowd reaction attested.

Review date: 21 Jul 2019
Reviewed by: Steve Bennett
Reviewed at: Latitude
Recent Reviews
What do you think?