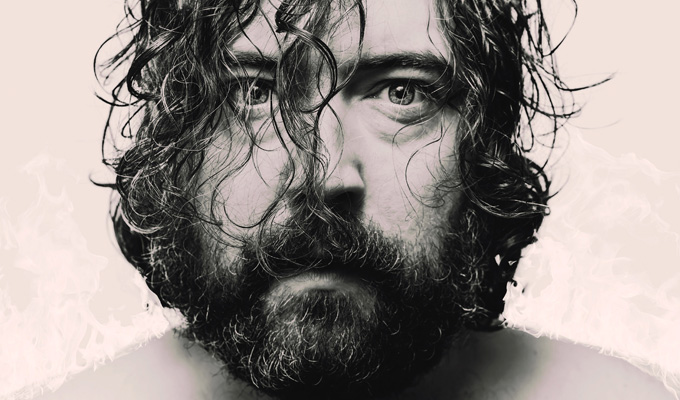 Nick Helm at Latitude 2019
Nick Helm offers a disclaimer at the start of his Latitude set: he hasn't gigged in 18 months and hasn't done a proper Edinburgh Fringe show in six years... though that will change in ten days, when this year's festival kicks off.
Not that he needs to make such qualifications. Helm kicks off a gig like no one else, grabbing it by the balls as he barks out jokes of questionable quality but selling them with a glam-rocker's intensity and swagger, complete with corny stings that make the most every last watt of the festival's substantial sound system. His aggressive ultimatums for us to 'cheer the fuck up' aren't subtle but the intensity works, even with a 1pm crowd who probably weren't expecting quite so may c-bombs if they knew Helm only from Uncle or The Reluctant Landlord.
Talking of which, he unexpectedly turns into Stewart Lee for a routine about his supposed fans who didn't catch the Romesh Ranganathan sitcom, repeating the same phrases, dripping with sarcasm, over and over.
Then we get a third style off comedy as he turns confessional to open up about his struggles with depression - even if he can interrupt that to growl out another full-pelt rock number about sex.
For a comic known for being so extravagantly in-your-face, Helm can display quieter control, too, as he holds the audience rapt with a tender story about being moved by a beautiful spirit. Yes, there's a comic payoff, but storytelling seems to be the predominant direction he's heading in (although another yarn about The Jazz Singer movie is less rewarding).
That he can mix the very still with the very loud shows his command, making for a Latitude performance with real impact, and a signifier of a strong Edinburgh return to come.

Review date: 21 Jul 2019
Reviewed by: Steve Bennett
Reviewed at: Latitude
Recent Reviews
What do you think?