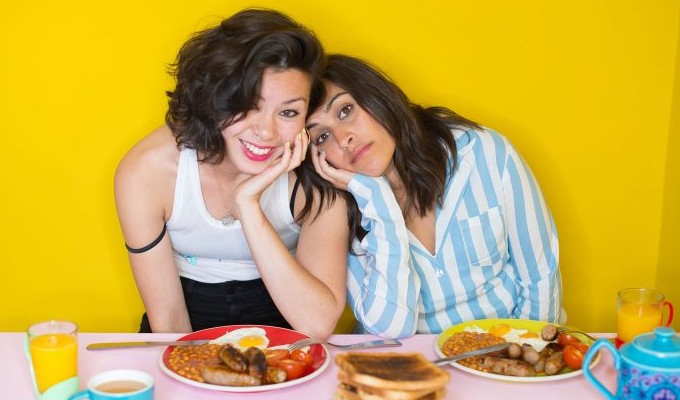 Egg at Latitude
Note: This review is from 2019
Toxic masculinity is the through-line of sketch duo Egg. But although Anna Leong Brophy and Emily Lloyd-Saini are obviously coming from a female perspective, they are empathetic to the damage it does to men, too.

This description, however, makes them sound far too serious, when silliness is definitely the order of the day. Even characters such as the creepy chat-up merchant is played as an exaggerated caricature, though his increasingly aggressive approach has surely not been exaggerated too much. Elsewhere one playa tries to confide to his bruv that he's fallen in love - a concept that's alien to their love-em-and-leave-up mentality.

The sketches are full of gags, and never so more than the couple breaking up and fighting for custody of... well, a chair. On top of the surreal parody of the initial premise they layer puns, comic Yorkshire accents, the cheap-but-brilliantly-effective double entendres of having an unseen character called Semen, high drama and some looser messing about in their performance. There's a lot going on, but the recipe is perfectly mixed, with complementary comic flavours, none of which overwhelm.
As well as being clued-up writers, Brophy and Lloyd-Saini are engaging performers, with audience participation that shows them in perfect control, focussed machine-gun delivery when it's needed in a skit based around the set-up 'I like my men like I like my pies...', and great physical comedy chops, too , as proven by a silent scene involving toilet paper that gets a huge laugh from a small, precise gesture that's just perfect.
Egg got just a half-hour slot on the tiny second stage in Latitude's cabaret theatre, but they deserve a bigger platform if there's any justice.

Review date: 20 Jul 2019
Reviewed by: Steve Bennett
Reviewed at: Latitude