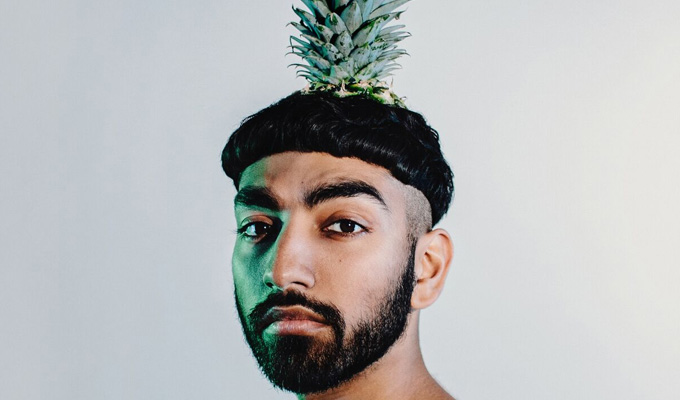 Mawaan Rizwan at Latitude
Mawaan Rizwan is a great choice for a festival, not least because of his silly, infectious rap tracks, accompanied by a killer beat, on such significant subjects as mangos or the fact that he's never been skiing. The white middle-classes of Latitude must think that the ultimate signifier of a deprived childhood.
After dancing all night, festival-goers might also relate to his opening routine about needing medical attention after injuring himself slut-dropping. His comedy style is as upbeat and energetic as anything you'd find in a nightclub, too, as he shares stories of coming out as a gay, drug-using atheist to his traditional Muslim mum, a yarn which doesn't pan out quite how you might expect. He's always been a non-conformist, he explained, as being weird frees him from responsibility and expectation.
Frank talk of his sex life might come as an education to the youngsters that liberal parents are happy to bring to Latitude's dirty-talking comedy arena, but much of his set is universal: such as talking about compromise in relationships or the pressure the first time your would-be partner says: 'I love you.' Rizwan, it's fair to say, did not handle it well, and is happy to share his embarrassing, stuttered response for our enjoyment now.
Some of his relationship material is solid rather than spectacular, but other routines bump up the average. A chunk about corporate-style chat-up lines is a slightly formulaic premise, but he nails it to the delight of the crowd while speaking of the 'straight-washing' that underplays the sexuality of movie characters he assumes are gay is winning mix of the daft with social commentary.
And it fits in well with his persona of the likeable, lively idiot, joyfully upbeat and with plenty to share. Its a performance easily won over a crowd who probably didn't know who he was before he came on stage.

Review date: 20 Jul 2019
Reviewed by: Steve Bennett
Reviewed at: Latitude
Recent Reviews
What do you think?