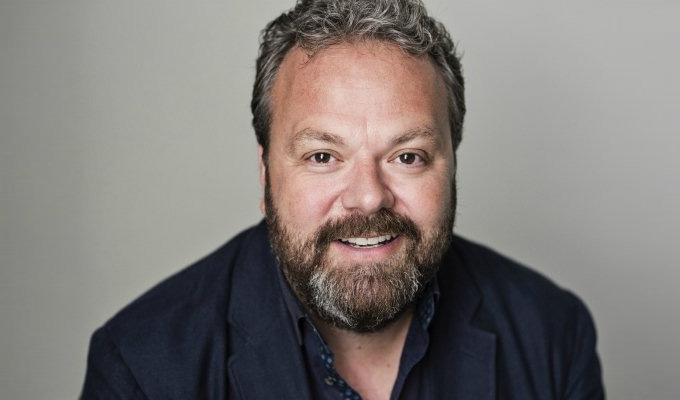 The Big Funny Festival
The Big Funny Festival is the latest attempt to convert marquee comedy into an all-day event, not just a nice evening gig.
Set over two days, it was based in the Old Deer Park in Richmond – one of the more well-to-do enclaves of South West London, but also directly under the flight path of planes low on their approach to Heathrow. And as one comic after another found, one layer of canvas is little protection against the noise of a jet engine 1000ft up.
Sunday was a modestly attended affair, around half capacity dwindling to about a third by the end of the day – proving that seven hours of stand-up with no other options to mix it up, is a tall order, even with a bill strong as this. Still, those fans ready for full immersion into comedy were up for a treat.
The first of the three long sections was headlined by Nish Kumar, full of all the passion and righteous indignation of a slighted Remainer who just lives to bait Piers Morgan. Although his set is powered by liberal outrage, it's not (just) a polemic, with his strong opinions humanised by his personal reaction to the political omnishambles.
Cursory nods towards self-deprecation don't dent the impression that there not a shred of doubt in his mind that his opinions are right. But such certainty makes his comedy all the more empathic as he races through the long list of all that he sees as wrong with the world, garnished with witty and pithy turns of phrase. And in this 70 per cent Remain voting constituency, housing the upper echelons of the metropolitan elite, he's not going to find many dissenters to his cause.
Compered by Mark Dolan, the second section started with a less high-octane state-of-the-nation address by Darren Harriott. Several times he'd mention support for inclusivity, a necessity as there was a touch of doubt in his set that the world was getting possibly, a teensy-weensy bit, too PC.
That's not the normal shtick for a millennial like him - he's 30 - as he discussed the ever-increasing alphabet of the LGBT+ acronym, expressing some empathy with the school protesters in Birmingham and noting that for all his abuses, R Kelly did write some bangers. But Harriott is not a provocateur, and this is conveyed with good humour from a comic who doesn't seem to stop smiling. It seems an unlikely demeanour given his former job: a bouncer in some very rough clubs - experiences which gave him his strongest strand.
Next up, Olga Koch, who admitted her set was shambolic. She started sure-footedly with some jokes about her Russian background, but a routine that made needlessly heavy weather about the inherent flaws of Beauty & The Beast was a harbinger of other material that floated valid ideas, especially about gender roles, but failed to bring coherence.
She even set up one routine about the 'if/then' logic learned from her computer science degree but forgot to finish it, getting distracted by the chance to sing a bit of Kelis. She seemed to be having fun and has a punchy cadence, but the material this afternoon didn't share the same sense of purpose.
Closing this show, Hal Cruttenden is the perfect match for the monied Richmond crowd. Indeed he use to play rugby for London Welsh on the adjoining field, captaining the under-11s He perfectly skewers the middle England mores of which he, like most of the rest of this audience are culpable, whch are brilliantly, self-effacingly delivered.
Cruttenden explains that 'I'm not nice, just middle class' which gives his material an added bite behind the veneer of acceptability, and he dives in to dark territory – imagining the death of his agent and even himself, but with a chipper cheeriness.
Combined with a quick improvisational wit – not least in flaring his indignity as a couple of punters exited the tent to get their photos taken with Harriott – he had the crowd roaring, For while Cruttenden is a decidedly middle-class act, he's also simply a class act.
An on-form Jen Brister showed plenty of panache introducing the third show of the day, too, keeping the now-depleted crowd entertained with confessions of being a bad mother or sharing frankly the horrors of being perimenopausal – all perfectly animated with brilliantly observed act-outs of the scenarios she describes.
Current Taskmaster contestant Lou Sanders vows that she's trying to be more professional. And though you'd still be hard-pressed to describe her routine as 'slick', she does have some success in channelling her ditzy trains of conscience into some semblance a routine, without losing her appealing random energy. Indeed the little 'wisdoms' she reads from her notes are as pithy as they come, while she has a relatively tight routine about her friend's ill-judged online dating profile.
Sanders' engaging persona is of a sexually assured, self-confessed 'legend' affecting high self-esteem – though with huge ambiguity as to how much that confidence is just a front. Her set is still a chaotic ride, but in a good way.
An obvious wordsmith, the Glenn Moore fashions what could be a parade of obtuse one-liners into a more conventional narrative about relationship pitfalls – including a wonderful loo-roll-based analogy – his schooldays and even his former job as a radio newsreader. Affecting a slightly Boris Johnsonesque technique of appearing more of a bumbling posho than he actually is, Moore doesn't entirely convince as an off-the-cuff conversational comic, but we're all happy to go with it, given the clever unexpected punchlines in the taut script.
No such reservations about the spontaneity of closing act Andrew Maxwell, who even after such a long day energises the crowd with his impish passion – joyfully riffing with the audience members, whether they be from Wales, Ukraine or Cyprus, and making merry with the fact he has to time punchlines between low-flying 777s.
He's an undoubted people person – but also a voracious consumer of information which peppers his set. His joyous initial banter subsided into a bleak assessment of the Brexit situation, laying into the privileged toffs leading Britain – as if leadership was shown – into economic catastrophe for their personal aggrandisement, with no care for the huge collateral damage their political posturing will cause to his Irish homeland.
It's sobering, more than funny, but Maxwell holds the room rapt with unrivalled oratorial skills once he'd won our trust as a comic, and the Home Truths he shares will stay with you.
Ultimately, he sees hope in the younger generation, engaged and uncorrupted by the Toxic elements of the mass media, which enables him to end on a much-needed note of optimism. But you'd have found more about the harsh realities of Brexit from this comedy set than from any of the candidates on their podiums on Channel 4's Tory leadership debate.
Review date: 17 Jun 2019
Reviewed by: Steve Bennett
Recent Reviews
What do you think?