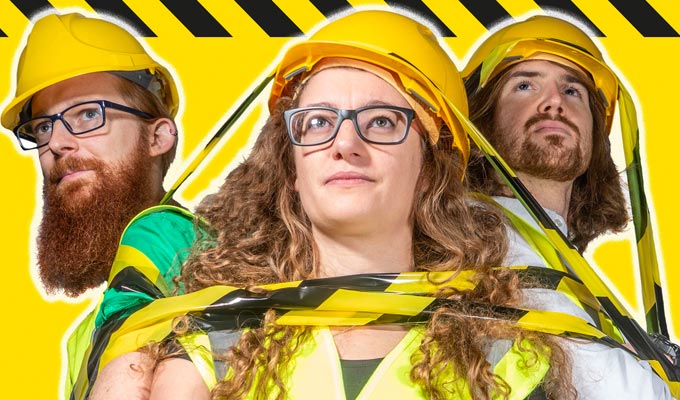 Utopia: Under Construction
Labouring under the false belief that every show needs a theme, Utopia: Under Construction is a compilation of three newish comedians from South West England, presented under the notion that society needs to be dismantled and built upon new pillars. When one of those pillars is 'cartoons' because one of the comics has a routine about cartoons, you know the premise is straining.
The show is compered by Christian Russell-Pollock, who displays a touch of the ironic sexism of someone who's watched a few too many Ricky Gervais specials, though with a little more pleasantness. We don't get to hear much of his material, though, as in his hard-hat and high-vis vest he has to go through all the needless admin of the hour.
In fact, much of his section is written by the audience, who are asked to supply their lists of the best things in life and suggestions for a political agenda while waiting for the show to start. Some of the outlandish suggestions get laughs, while Russell-Pollock's contribution is to inject comments like: 'I love you lot!' to make us feel good. He's genial enough as an MC, but isn't providing much content, even in reaction to the suggestions.
Our host then unveils a graphic illustrating a 1970s ideal of the seven pillars of society: education, government, commerce etc, which opening act Jon Matthews is tasked with demolishing. He does not make for a charismatic revolutionary, mainly because he directs at least half of his material directly to his feet. It seems an effort for him to look the audience head-on, but it's a hurdle he needs to overcome.
His writing is better than his performance, especially when it comes to geeky punchlines you can feel smart for getting. He has a decent line in grumbling, especially when it comes to Peppa Pig, while his making a euphemistic trope out of the apparently innocuous phrase 'building a statue to Margaret Thatcher' is inspired. Not all is gold – a very long-winded story about him looking like Jesus is over-familiar, perhaps every full-bearded comic seems compelled to do a variation on this theme.
Eliza Fraser is more interesting presence, sparky and energetic as she rattles through her set. But behind the intense enthusiasm, gags are thin on the ground. Premises don't really go anywhere and again plenty cover old ground, such as Romeo And Juliet not being the idealised romance it's purported to be, especially when you consider the characters' ages.
Much of her stream-of-consciousness is about the lot of being a comedian, such as complaining about the expense and stress of performing at the Edinburgh Fringe. This is parochial and self-involved: after all no one's making her do the festival but herself. She has some a more generous message about kindness later on, but it doesn't feel joined-up, and is again light on identifiable punchlines.
So, on this basis, this new Utopia is far from ideal.
Review date: 2 Jun 2019
Reviewed by: Steve Bennett
Recent Reviews
What do you think?