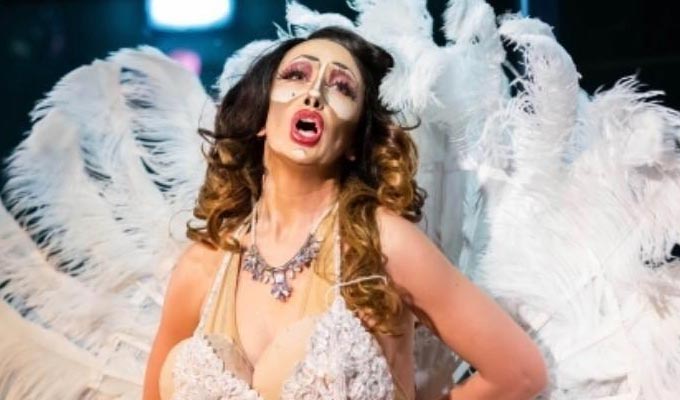 Kiki Mellék: Law Of Attraction
One part Katie Price, one part Melania Trump and two parts Kim Kardashian, Kiki Mellék is shallow, venal eurotrash – obsessed with an Instagrammable lifestyle and always mutilating herself under the surgeon's knife to become a grotesquely exaggerated parody of beauty.
So of course makes for a fabulously camp drag personality, even if her creator is female. Kiki is so wildly larger than life – and not just in her enhanced tits and bum. She doesn't hold back when it comes to sharing her awful tips with the world or celebrating her own fabulousness, which the only subject she knows anything about or has any interest in.
Kiki has rushed rushed from her latest enhancement op to be here: her face is still bandaged and her IV is still hanging our of her arm. But that won't stop her partying.
Jo Calderwood, the woman behind the clownish make-up and preternaturally bulbous boobs, has all the sassy vibrancy she needs, blasting through the audience in a tsunami of self-belief. She engenders a party atmosphere, and press-gangs volunteers into service for her games. She demands that everyone as up for fun as she is.
Ultimately, though, the hyper-narcissistic Kiki's shallowness is her undoing, at least in part. Despite Calderwood 's best efforts, the tips for the perfect social media shot become a bit repetitive. A full hour becomes a stretch as the lack of content behind the gregarious froth becomes exposed.
But whatever the shortcomings, the outrageous, monstrous persona is a force to be reckoned with.
Review date: 19 May 2019
Reviewed by: Steve Bennett
Reviewed at: Brighton The Warren
Recent Reviews
What do you think?