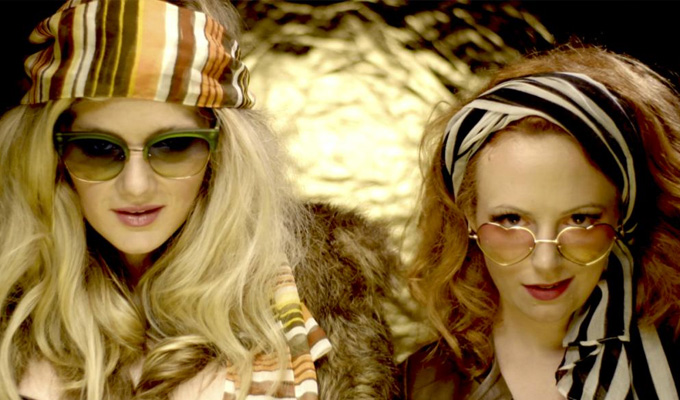 Witt and Camp: Swag
Your reaction on leaving Witt and Camp may be 'what the hell did I just see?' But there's no mistaking the fact these super-talented, proudly weird and rapaciously over-sexed duo know how to put on a show.
Existing at the interface of comedy and cabaret, Charlie Howitt and Holly Campbell introduce themselves via a sultry, noirish and intricately choreographed physical sketch that sets the seductive mood for the rest of the hour. For they have carefully considered every aspect of the often absurd show to give it a sense of, down to details like summoning the blackouts with an imperious click of the finger.
Yet there's also a randomness to the hour, as they weave seemingly willy-nilly between a handful of unrelated scenarios that aren't always resolved. In the audience, you have to go with the flow, and accept scenes on their own terms. On their own, they might be too odd to quite connect, but you can appreciate how well they are executed, doing Swag with swagger.
Two bizarre strands involve a flirtatious cat-and-mouse game between cops and Criminal and maudlin Irish chickens trapped in a loveless menage à quatre. And a stand-out are the singers who blend rap and opera. Witt and Camp are by no means the first performers to have thought of this, but their hip-hopera takes on the likes of Nicki Minaj and Akon are expertly performed, with intricate verbal dexterity and impressive range, from Witt's (Howitt's) resonant, smokey bass to Camp's trilling, glass-shattering soprano.
They probably return to the technique a couple of times too many, but you forgive these charismatic oddballs a lot. These same personas are also interviewed with passive-aggressive intensity, the pair ramping up the usual double-act tensions to a new level of personal animosity.
Performing in corsets and fishnets – and occasionally chicken feet – Witt and Camp come from a burleseque tradition, which comes to the fore in a freaky take on the striptease and an 'eggpocalypse' reminiscent of Natalie Palamides' Laid.
Accept Swag is not about sharp jokes and instead just bask in the peculiar, mesmerising and proudly upfront attitude, and you'll have a blast.
Review date: 18 May 2019
Reviewed by: Steve Bennett
Reviewed at: Soho Theatre
Recent Reviews
What do you think?