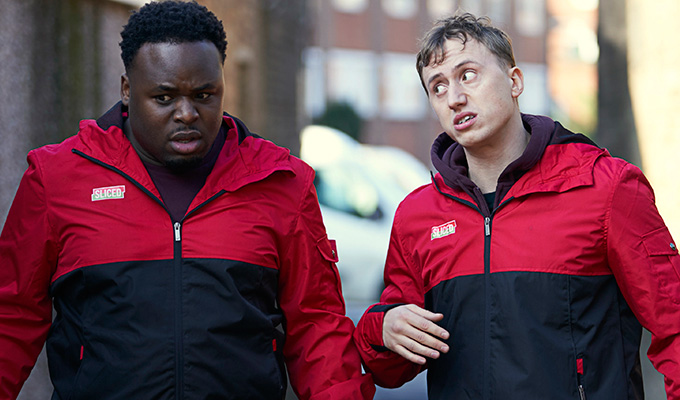 Sliced
There's a zippy energy about Sliced, Dave's new sitcom about two working-class young Londoners trying to scrape a living by delivering pizzas, and any other way they can think of. It will surely resonate with its demographic, but like People Just Do Nothing, it's sharp enough to appeal beyond that, too.
Key is the friendship between Joshua (Samson Kayo from Famalam and Timewasters) and Ricky (Theo Barklem-Biggs from White Gold). They have a bantery relationship, but are clearly way less cool than they would hope to be, especially around women. They seem just as likely to get laid as to get rich.
The premise for episode one is as simple as it comes: Joshua's indomitable, teeth-sucking mother demands £150 for rent. But how will he raise it with a zero-hours job?
As played by Shola Adewusi, the brutally no-nonsense Mum is one of the many larger-than-life characters that occupy this world, from the equally intimating guy working at the bank's call centre to David Mumeni's Mario – the insane pizza shop owner who fancies himself as something of a Joe Pesci type, a different type of loser from the leads.
It comes to something when Phil Daniels – here playing a suicidal sad-sack Joshua delivers to – is one of the more restrained characters in your sitcom.
Following Joshua's deliveries gives Sliced an episodic feeling, with many of the scenes – such as him trying to pawn his hoverboard – feeling almost like sketches. Such is the pace of jokes in the snappy script by Kayo and PhoneShop writer Phil Bowker. However, the extended 40-minute running time works against that tempo, making it something of a mystery why it's not the standard half-hour, and there are certainly a couple of more sluggish, tangential scenes that could be lost for the greater good.
But the affable losers trapped by financial circumstances that Joshua and Ricky are naively trying to extricate themselves from are certainly sympathetic, and there are plenty of jokes packed into their extreme situations.
• Sliced is on Dave at 10pm tonight, tomorrow and Friday, then on catch-up on UKTV Play. Read an interview with Kayo and Barklem-Biggs here.
Review date: 15 May 2019
Reviewed by: Steve Bennett
Recent Reviews
What do you think?