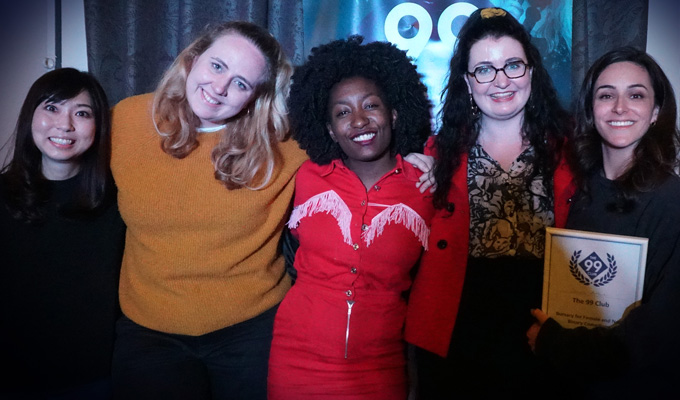 99 Club Bursary Showcase
Judges in comedy competitions often offer condolences to those who don't win about how difficult the decision was and how close the quality of the contestants was. At the risk of breaking the illusion, that's not always true.
But last night, it was. The five acts in the running for the £500 bursaries handed out by the 99 Club to help finance their Edinburgh debuts all had plenty to commend them, and in different ways, too. For although they are united by the one simple criterion of entry – no men – there was plenty of diversity in styles, personalities, and even nationalities.
Opening the night was Yuriko Kotani, who moved to the UK from Japan 14 years ago, but is still an outsider, even if she catches herself thinking more like a Brit each day.
Her best material plays on the stereotype of Japanese efficiency, like an Asian Henning Wehn, especially when confronted with the failings the British transport system. It's a taut and funny routine, with a laugh – often from things she leaves unsaid – almost every beat. She's been performing it since even before scooping the BBC New Comedy Award in 2016, so no wonder it's tight.
Elsewhere, her realisation she was becoming Anglicised while in a coffee shop plays out a bit predictably, but that's countered with a purposeful yet silly take on the sexism in the rarefied world of sushi chefs that underlines her status as an astute and funny writer.
Sophie Duker evoked a few hot-button subjects, too, most notably about race, but concealed them in a boisterously effervescent performance. The twin approach doesn't always gel, with the frippery too lightweight and the issues too lightly glossed over. Sometimes, too, she reaches for a too-easy or predictable line, closing her set on the old comment that she's bisexual 'so none of you are safe'.
But she's a thoroughly engaging presence, with the sort of playful audience interactions that would make her an excellent MC (not that the actual compere, Sarah Keyworth, needed help in that department as her witty and wry commentary kept the gig bundling along wonderfully). As well as her upbeat style, Duker's got both a robust attitude and strong point of view, two things every good comic needs.
For the most laughs per minute, however, there was no beating slick New Yorker Janine Harouni, who has a tight routine about her Italian-American upbringing, her dating history and the differences between the UK and America.
She complains that drama school was a waste of money, but it's given her great performance chops and a more than passable posh English accent. But most impressive is her industrious joke rate, covering a lot of ground with a sharp, original and sometimes waspish punchline at every turn. A well-deserved winner of one of the £500 bursaries.
Canadian Emily Wood also spoke of moving to the UK to study drama and came off slightly the worse by comparison. But once she moved on to talking about the impoverished existence she was forced into in East London where the streets are overrun by gangs and – worse – foxes, she found her feet.
She's a rough-and-ready performer but makes an asset of her lack of polish and nervous energy. She's forever beaming with a jolly smile, even while excoriating herself over her looks or lack of self-respect, or being brashly honest about life. Wood's not the finished article, as Harouni is, but there's something refreshingly engaging about her quirky presence.
Finally, Helen Bauer, who took Wood's honestly and ratcheted it up several notches.
Sometimes female comedians have shied away from talking about periods for fear of the unfair myth that it's all that women stand-ups talk about, but she wades in unapologetically, all guns blazing, with graphic material that really struck a chord.
Brimming with self-assurance, despite a slightly awkward physicality, the 6ft 1in comic boasts of her capacity for wine and cheese, pours scorn on the petite women who date enter the oversize section of clothes shops, and has an excellent take on the dubious morals of her German grandparents who fled to England before the Second World War.
Her bold and uncompromising force-of-nature attitude won her the second £500 bursary of the night – and no doubt plenty of fans, too.
Review date: 1 May 2019
Reviewed by: Steve Bennett
Recent Reviews
What do you think?