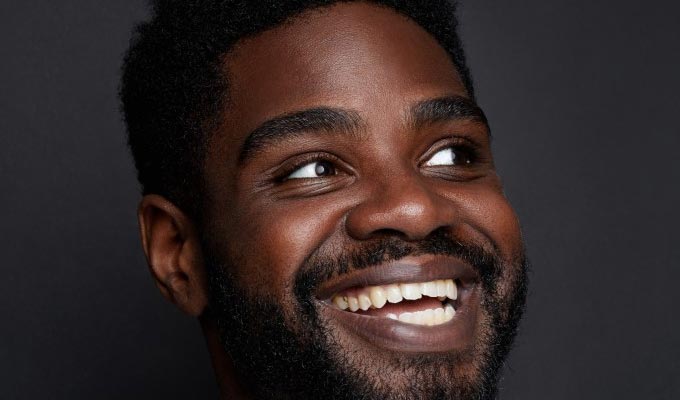 Ron Funches Live
Drawn to a peculiar titter in the audience, Ron Funches declares in mock-indignity: 'Nobody out-cutes my giggle!'
For this American comedian's surprisingly girlish laugh has become his trademark, as he looks to the skies, innocently amused by the workings his own brain. Though it's clearly practised, it nevertheless comes across as the expression of genuine happiness.
He's sparing with that giggle on his Australian debut, though the personality trait behind it – of finding unfettered glee in the things he talks about – remains strong. He's positive, guileless, even earnest, with jokes that rarely have victims.
So when he speaks of reality shows, for instance, it's the Great British Bake Off which delights him most because it's so good-natured and the competitors are kind to each other.
And why shouldn't he be happy? After all, he says all he ever wanted to do with his life was watch wrestling, smoke weed, play video games and talk shit. And now he has a job that lets him do all four – and there is material on each – in a career that's proved lucrative enough for him to buy a house.
He's even positive about getting divorced at 27 – not least because it gave him his 15-year-old son, whom he clearly adores, and not just because his autism has given dad some good stories for his stand-up.
If not the end of his marriage, there must have been downs as well as ups in his life – having 140lbs of spare weight to lose, as he has successfully done, would suggest something's up – but his comedy is all about the triumphs.
His liveability avoids charges of schmaltz, but Funches is a bit shameless in the way he fishes for applause breaks, with the Aussie audience clearly not as free with their ovations as his homeland crowds. Indeed, Funches's underplayed humour often takes some time to land, which means the comic offers a running commentary on the initially muted audience reaction.
He rebukes us – good-naturedly, of course – for our sluggishness at getting on board and lack of momentum, as if pointing that out would help. And some of his routines are more pleasing than laugh-out-loud, especially since he gives everything only the softest of sells – which explains the muted reaction.
But gradually his infectious, beguiling charm wins through, and we all emerge that little bit more upbeat.
Review date: 20 Apr 2019
Reviewed by: Steve Bennett
Reviewed at: Melbourne International Comedy Festival
Recent Reviews
What do you think?