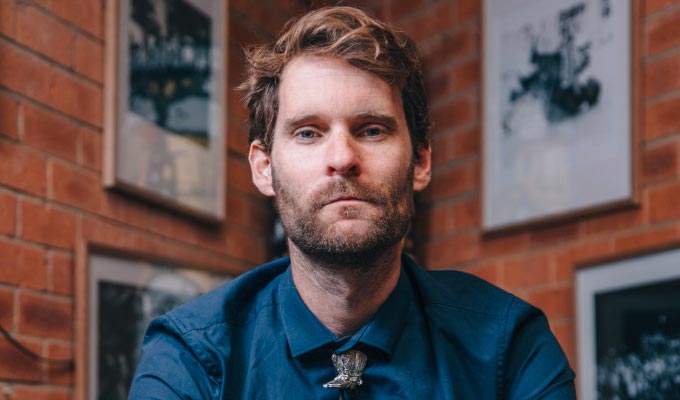 Luke Heggie: Have That
Most stand-ups – at least those not with an established market of fans to serve – come to a comedy festival with some artistic ambition. And to be fair, us critics usually lap that shit up.
Luke Heggie is the antidote. He's a much more straightforward bloke's bloke who's taken time off from working on the building site just to tell us all the things he thinks are awful. It's quite the list, and surely includes the sort of fey liberal sensibilities prevalent at this festival.
The result is an hour steeped in cynicism and grumpiness… but his relentless, deadpan diatribe about how modern life is rubbish is packed full of dismissive, bitter jokes. Because he's not wasting time on theorising, proselytising or setting up involved stories, the rate of punchlines is industrious. This is a show that depends entirely on the quality and quantity of jokes, and the ruthlessly efficient and efficiently ruthless Heggie doesn't scrimp on either.
His critical, misanthropic eye wanders wildly, from Airbnb landlords and their passive-aggressive notes, to cool dads, to hipster cafes to those who self-diagnose themselves with conditions the next. The official programme blurb describes Have That as a 'harsh but fair show about dickheads', and that seems accurate – appropriately enough for a comedian who prides himself of plain speaking.
He's certainly not afraid to stand outside normalised opinion. There's some unfashionable nostalgia for the times when 'men were men', while he features stories of street fighting and drink-driving that puts morals on the back burner. In his world, violence is sometimes the solution.
Have That is undoubtedly politically incorrect, and some of his opinions and observations are dark indeed – and Heggie is purposefully opaque about whether he's being ironic or not. That's not from a place of deliberate edginess, but a refreshing contempt for the audience whose approval he does not crave. But he gets it anyway, so good are his gags.
Review date: 17 Apr 2019
Reviewed by: Steve Bennett
Reviewed at: Melbourne International Comedy Festival
Recent Reviews
What do you think?