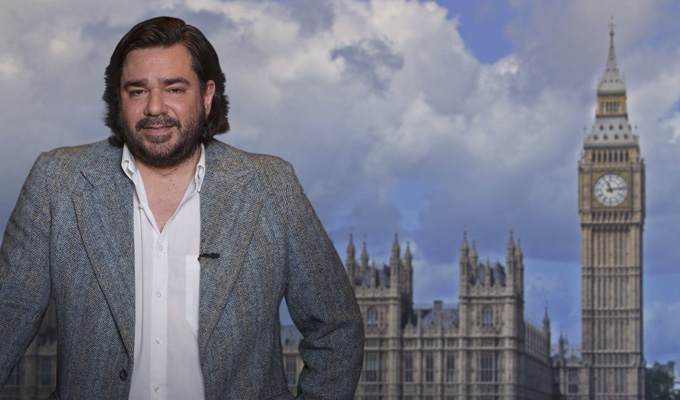 The Road To Brexit
It's a big ask to magnify the absurdity that already exists in the whole Brexit debacle, but if anyone can, Matt Berry and his Toast Of London collaborator – and Father Ted co-creator – Arthur Mathews could be your men.
Berry fronts Road To Brexit as a rogue, arrogant historian called Michael Squeamish, though Matt Berry only ever really plays Matt Berry. His task is to examine how we came to be in such a pickle over our relationship with Europe, a place this country has always viewed from a distance. 'Of the most successful continents of the 1960s, Europe was definitely top five,'Squeamish tells us.
It initially appears that all Berry need do is add his trademark vocal contortions on to the real clips; the footage from recent history being rendered grimly funny in their own right, through the benefit of hindsight.
But things soon depart from reality, as clips are redubbed, 'alternative facts' presented and interviewees start popping up. Paul Putner's great as an ex-member of The Police with strong views on Europe, while Natasia Demetriou and Phil Wang are an achingly woke middle-class couple, quite happy to see half the population of the planet move to the UK.
While that's a snipe at Remain, for that much-prized BBC balance, parallels are invited with the Leave campaign's belief we're always wronged by Brussels, whatever the reality., when we hear protests that the rest of the continent conspires to keep Britain from winning Eurovision, despite the inconvenient truth we have sometimes do.
Analogies aside, Road To Brexit is funnier the stranger it gets, that interview with the liberal couple, for instance, immediately reduced to lovely surrealism the moment the camera cuts to Berry's bizarrely battered face and his unlikely explanation as to how he came to sustain such awful injuries.
The one-off Road To Brexit is a bit of an oddity, as much funny peculiar as funny ha-ha; but with so much calamitous news surrounding our chaotic leaving of the EU, it's good to have a laugh that isn't dependent upon cynical views of the political shambles, and is simply just daft instead.
• The Road To Brexit is on BBC Two at 10pm tonight.
Review date: 26 Mar 2019
Reviewed by: Steve Bennett
Recent Reviews
What do you think?