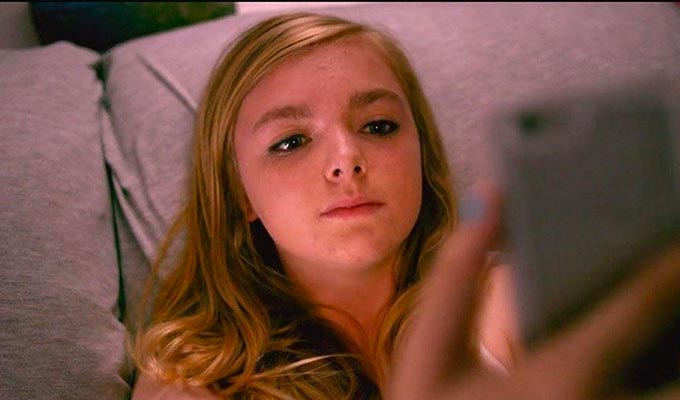 Eighth Grade
From his earliest 'pubescent musical comedy' released on YouTube, to his sitcom, Zach Stone Is Gonna Be Famous, Bo Burnham has always had a wry, nuanced appreciation of teenage insecurity, social anxiety and the role technology plays in making us storytellers of our idealised selves.
His feature directing debut, the often painfully poignant Eighth Grade is his most accomplished and mature treatment of these themes yet. It revolves around a hugely impressive central performance from Elsie Fisher as 13-year-old Kayla, who was cast, naturally enough, after Burnham saw her on YouTube.
Recording online tutorials about being yourself while struggling to even talk to her classmates, the film traces Kayla's final weeks before she goes to high school, as she's voted 'most quiet' by her peers.
The ironic gap between the self she projects and reality is tough to watch. But Burnham is non-judgemental, making it seem like an intense rite of passage in a story that already feels like a seminal coming-of-age drama for the social media age.
Fantasising about an oblivious boy, all but ignored by the popular girls, Kayla's principal relationship is with her phone, the bombast of Enya's Orinoco Flow inviting her to 'sail away' as she desperately scrolls through snapshots of other, more perfect existences. Meanwhile, her poor, single father (Josh Hamilton) treads on eggshells as he struggles to connect with her, desperately trying not to say the wrong thing.
Contrasting Fisher's quiet, outwardly naturalistic performance - her fear of a pool party beautifully conveyed in her head bowed, slow trudge towards the host's front door - with her inner thoughts, Burnham often deploys a loud synth score to suggest the jangling nerves and raging hormones coursing through her.
It's a device that adds considerable edge to otherwise familiar school scenes, ensuring that you're never long without feeling squirmingly uncomfortable, even protective towards Kayla. The sexual overtures made towards her (and internalised by her) from porn-influenced boys, range from the amusingly direct to the disturbingly threatening.
Although there are several memorable scenes, such as the pool party and a moving heart-to-heart with her father, Burnham doesn't present Kayla's journey as a series of plot-driving epiphanies, instead allowing her tiny triumphs to accumulate organically amidst her setbacks, borne from her anxious, misguided but quietly determined personality. So a school shooting drill, in which the kids hide under their desks, becomes an opportunity for clumsy flirtation, nature finding a way amid absurdity.
Alongside her hapless father, she belatedly acquires support from the nerdy attempts to impress her of Gabe (Jack Ryan), whose example encourages her to be more herself, and her slightly older mentor Olivia (Emily Robinson), affording her some much-needed, reassuring perspective.
Throughout, Burnham is satirically sharp and perspicacious about the role of digital technology in teenager's lives, poking fun without patronising, persuasively capturing the huge grip it can exert on the Darwinian scramble for popularity.
Witty without overtly playing for laughs, he deftly captures the struggles and even dangers of being a 13-year-old girl, confirming yet another medium that this talented, still prodigiously young artist excels in.
• Eighth Grade is showing at the Glasgow Film Festival at 6.30pm tonight and is on general release from April 26.
Review date: 28 Feb 2019
Reviewed by: Jay Richardson
Recent Reviews
What do you think?