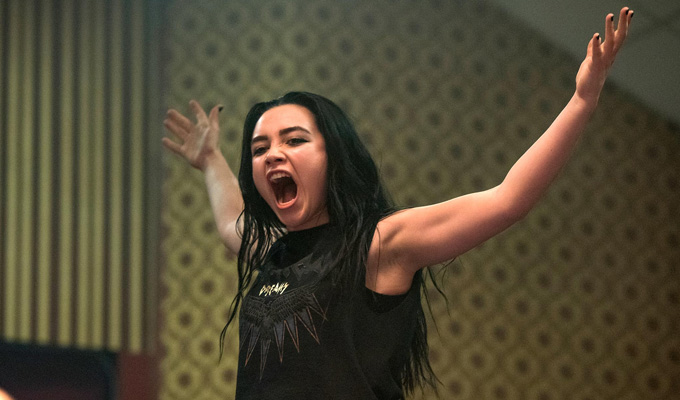 Fighting With My Family
Stephen Merchant's under-appreciated, fish out of water sitcom Hello Ladies about an awkward Brit floundering on the LA dating scene, concluded with a feature-length movie. Yet it felt like unfinished, or at least, abruptly finished business, cancelled at HBO after one series - an acknowledgement perhaps that Merchant's star draw didn't match his talents as a writer.
With Fighting With My Family, he gets a kinder narrative arc for his plucky Brit underdog while also highlighting the fate of the also-ran, embracing the formulaic pleasures of the sport movie as well as stuffing it with more than enough laughs to make it stand out.
This origin story of WWE wrestler Paige is based on a Channel 4 documentary about the real-life Saraya-Jade Bevis and her rough diamond Norwich family. Paige's story so tickled the film's executive producer Dwayne 'The Rock' Johnson that he approached his former Tooth Fairy co-star Merchant to re-tell it, securing himself a fairy godmother cameo in the process.
Played by the game and entirely sympathetic Florence Pugh, Bevis is born into wrestling. The ring saved her father, the bearishly funny Nick Frost and lovingly blunt mother, Lena Headey, from crime and destitution, so Bevis and her brother Zak are inspired with their ultimate goal of starring in World Wrestling Entertainment.
Zak (Jack Lowden) is the family's golden boy, headline act in the amateur wrestling league run by their parents. However, when the siblings get their chance to audition for the WWE, only Saraya-Jade makes the cut.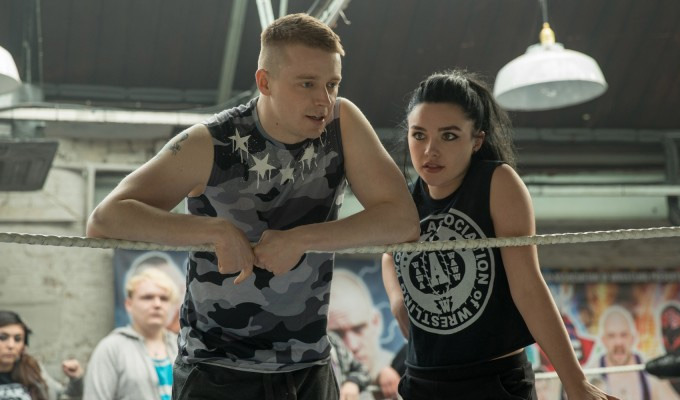 This is the film's crux, the wedge of resentment and recrimination driven between the Bevises, as Saraya-Jade becomes Paige but struggles at the Florida wrestling bootcamp without her brother. Meanwhile, Zak can't face up to being a journeyman, neglecting his baby son and the rag-tag gang of kids he keeps off the streets by having them pile-drive each other in the ring.
Fighting With My Family is co-production between modest, critically acclaimed Film 4 and the flashy WWE Studios, for whom this is an extended commercial. And Merchant embraces the jarring juxtaposition, usually getting the tone just right.
Norwich looks grim and somewhere you'd eminently want to escape. The Bevis family and its extended coterie are scrappy yet loving, while their criminal past is acknowledged and deftly mined for humour. Equally, Florida shines with sun, sand, swimming pools and training montages. And Merchant makes a (slightly clumsy) effort to look beyond Saraya-Jade's initial prejudice that her fellow female wrestlers are simply bimbo models and cheerleaders.
For fully-roundedness, they can't compete with the Bevises though. Wide-eyed but pugnacious, Pugh is physically and emotionally convincing. And she's excellently supported, with Frost, showing a tremendously assured blend of parental affection, wide-boy schemer, wrestling obsessive and understated menace.
Headey is equally good, caught between love for her children and vicariously living her daughter's dream. However, the film is carried to a large extent by Lowden, whom you continue to root for even in his darkest moments of bitterness and jealousy.
Further elevating the story is Vince Vaughan as Saraya-Jade's coach. Though his drill instructor-like role is riddled with cliché, he dextrously projects the necessary cruel-to-be-kind mentality. And his sardonic delivery claims some of the movie's best lines, reminding you that The Swingers star is still capable of being great when he's handed a decent script.
As Zak's in-laws, the repressed, middle-class Julia Davis and Merchant himself provide some cracking early moments of buttoned-up horror at the uncouth Bevis. But they also serve as proxies for anyone in the audience unfamiliar with wrestling, with Frost schooling Davis that the fights aren't 'fake, they're fixed'.
This can seem like too fine a distinction. Particularly at the climax of the film, when Merchant capably fudges Paige's moment of overcoming the odds, when in truth, the outcome is not only pre-decided but the entire reason for Fighting With My Family existing – if Paige hadn't become a superstar, we wouldn't be watching.
Given the WWE's self-regarding ridiculousness – with the director pushing its credentials as legitimate storytelling – Johnson is good value playing up to his image, while the family scenes are enjoyably warm with a welcome dash of grit. The high gag count punctures the sense of hagiography, ensuring this still feels like an independent feature and a worthwhile subject for Merchant's first solo directed cinema outing.
With the credits using footage from the original documentary, you appreciate just how faithfully Fighting With My Family has tried to capture the Bevis brood. And comedy fans ought to get a kick out of seeing Brendon Burns as a loudmouth ring announcer and Ciarán Dowd as a heckler at one of Paige's earliest bouts.
• Fighting With My Family screens at 3.15pm today at the Glasgow Film Festival and is on general release from Wednesday.
Review date: 22 Feb 2019
Reviewed by: Jay Richardson
What do you think?