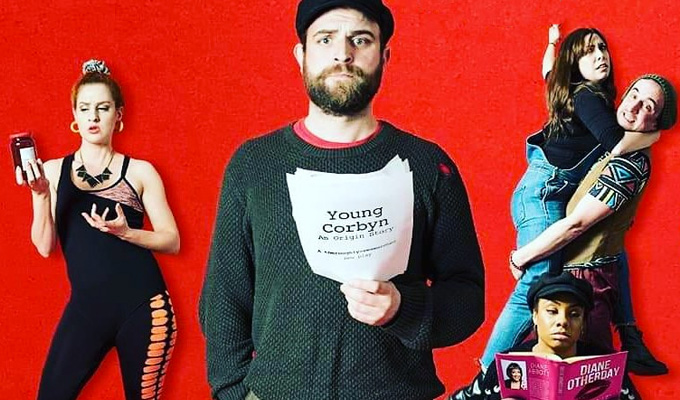 Young Corbyn: An Origin Story
This is a great idea, which could have come straight out of the Comic Strip Presents stable. A bunch of devout Momentumites stage a musical based on the early life of Jeremy Corbyn, presenting their beloved Labour leader as nothing short of an infallible Messiah.
But this spoof gets rather too tied up with the far-less interesting backstory of the leftie thespians staging the show, with plenty of easy pops at earnest and egotistical performers, 20 years after the League Of Gentlemen's Legz Akimbo nailed the topic.
The characters here are not defined much beyond a single running joke: this one's too touchy-feely; this one's young, and so on. It's a shorthand that gets to the jokes quickly but feels shallow and unrewarding.
And the constant interruptions of what's supposed to be a real performance of the Young Corbyn show while the cast debate what they are doing is a huge handicap to building, erm, momentum.
This show-within-a-show offers the better moments, as the cast get to be ridiculously silly, normally when likening their political saviour to a much earlier JC – from the modest birth to crucifixion by his critics.
Any political wonks wanting something satirical are likely to be disappointed, given that the central joke is that the origin story – full of tales of revolutionary derring-do – is sloppily researched, dependent only upon Wikipedia. Insight is therefore restricted to the straightforward comment that hero-worship can blind naive young voters to the flaws of their icon – as if the Dark Mutters troupe were going for insight.
There is a smattering of good, daft lines, but plenty of corny ones too – 'he went to a grammar school, which doesn't mean he's posh, just that he's good at grammar' – so it's very much a case of taking the rough with the smooth.
The young cast has an appealing energy – as demonstrated by the suitably barnstorming opening number – but not always focus. Several lines are lost as they babble them out too fast.
Adam Rhys-Davies has the most prominent funny-bones of the lot, hamming it up as the eager thespian wanting to play all the roles, not letting the fact he's a white man stunting his ambition to play Diane Abbot. Comedy-goers might recognise him as half of the Twins Macabre double act along with Nic Lamont, who's also in this, but doesn't make such an impact. Meanwhile comic Holly Morgan plays the bossy leader of the acting collective, and also co-wrote the script with co-star Tom Moores.
There is something in this spoof, but it needs more focus on the political angle on which it's sold, rather than the easier jokes of young actors bickering.
Review date: 7 Feb 2019
Reviewed by: Steve Bennett
Reviewed at: Vault Festival
Recent Reviews
What do you think?