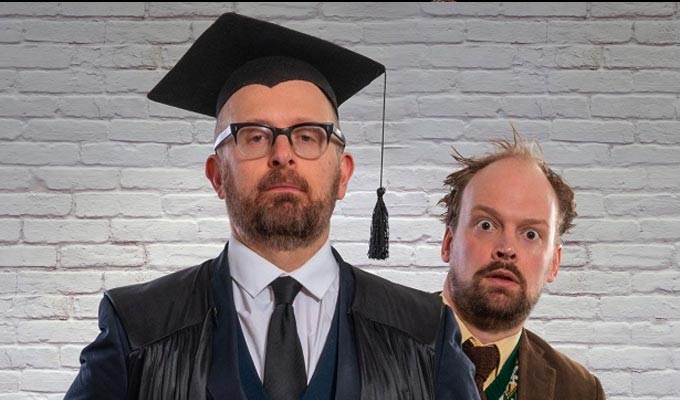 Fool Britanna
The upper-class twits formerly known as The Establishment are now called Fool Britannia, and running an anarchic school not far from the Bash Street Kids.
Headmaster swooshes around in cape and mortar board, there's a timid becardiganned supply teacher bullied by Year 9, a science boffin with wild white hair and lab coat, and a dinner lady dropping her fag ash into the mash.
But it still seems there are lessons to be learned in a patchy show – primarily that Dan Lees, the nominally authoritative one, and the sillier Neil Frost need to do a bit more homework.
This hour feels as if it's been thrown together on the fly – and while there's joy to be had in an engaging looseness, here it sometimes feels as if the pair are merely indulging themselves, putting still half-formed ideas through a workshop in front of us.
A history lesson provides a very cursory excuse for an almost-sketch in which cavemen bash each other about a bit, the most simplistic of physical routines, while Vikings appear with a jaunty jingle but nothing much else.
The pair hammer jokes home repetitively, too… with a conviction that's just as likely to appeal as it is to irritate. They certainly have a lot of belief the fey, smug actorly bows they repeatedly make to each other will be funny. I'm not so sure, but the equally puffed-up assertions of the majesty of Shakespeare do strike a chord.
Yet for all the undermining of their own flimsy premises, Lees and Frost's embrace of the absurd and the tacit acknowledgment that all this is lightweight nonsense starts to win over the audience.
This emboldens this pair of clowns to hit a more confident stride with their playfulness about halfway in, coinciding with a little more non-threatening crowd interaction as we join in the stupidity en masse, primarily via call and response.
'Games are fun,' is the fictional school's pidgin Latin motto and they finally convince us of the fact. But a little more focus wouldn't go amiss, either.
Review date: 27 Jan 2019
Reviewed by: Steve Bennett
Reviewed at: Vault Festival
Recent Reviews
What do you think?